16th foundation anniversary of PYD celebrated in Helsinborg
Çekjin Qamişlo called for increased solidarity with the PYD and the Rojava Revolution.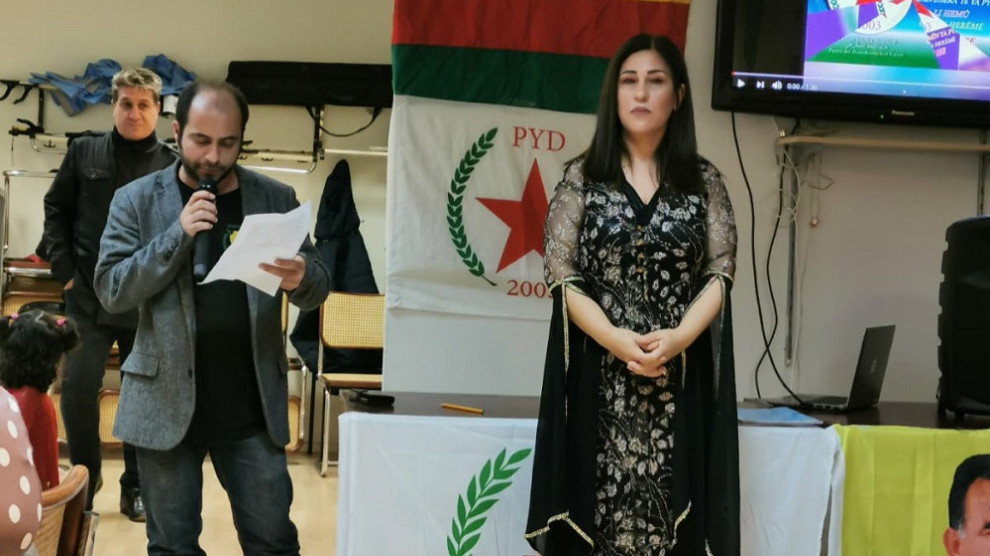 The 16th foundation anniversary of the Democratic Union Party (PYD) was celebrated in Helsingborg city of Sweden.
The event at Helsingborg Democratic Kurdish Community Center began with a minute of silence in memory of martyrs of revolution.
In a speech on behalf of PYD, Çekjin Qamişlo stated that PYD was founded basing on Kurdish People's Leader Abdullah Öcalan's philosophy, and has made great advances during the past 16 years with the struggle and sacrifice of the Kurdish people and the martyrs.
Recalling that PYD has been subject to the repression and attacks of reactionary and colonialist forces with numerous executives and members arrested since its foundation, Qamişlo stressed that the Kurdish people and revolutionaries in Rojava have reclaimed their party and managed to repel reactionary and fascist attacks each time.
Qamişlo pointed out that the Turkish state and some other reactionary and colonialist forces in the region want to eliminate the achievements of Rojava people, and called upon the people of Kurdistan and their friends to increase solidarity with PYD and Rojava Revolution.
A cinevision screening about the Rojava Revolution and achievements of the peoples in northern Syria was followed by the musical performance of Koma Kobanê, and the event ended with slogans commending the Rojava Revolution and PYD, YPG/YPJ.