26th Day in Strasbourg: Visits from the UK
As the traffic of visitors continues, the hunger strike in Strasbourg has completed its 26th day. London based academic Dr. Osman Ismail and Rojava veteran Sores Serekaniye were in Strasbourg against the isolation.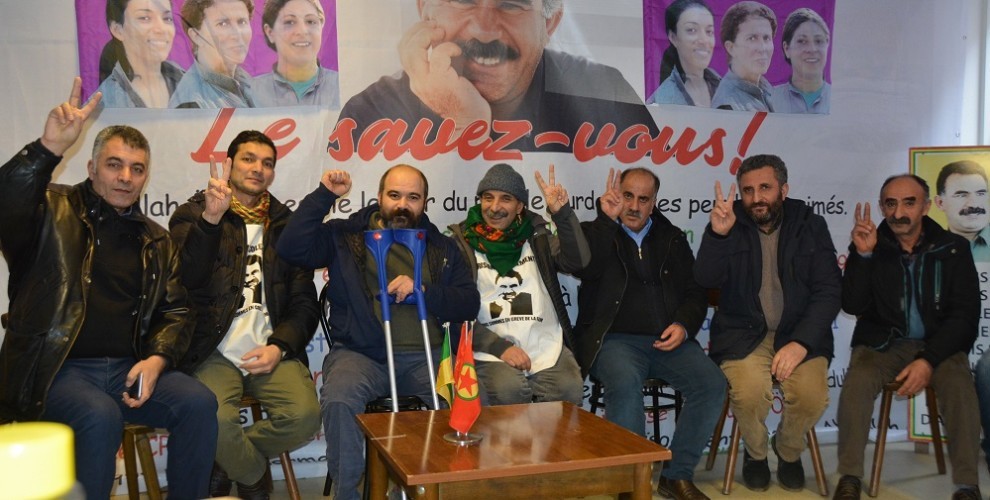 The indefinite and non-alternate hunger strike in Strasbourg, France against the isolation imposed upon Kurdish People's Leader Abdullah Ocalan has completed 26 days. Members of popular assemblies from Dortmund, Mannheim and Kehl in Germany, Bregenz in Austria and Lyon in France visited the protest throughout the day and demanded that the CPT fulfill its responsibilities, stressing that the struggle will continue.
ROJAVA VETERAN OFFERS SUPPORT
Among the visitors in Strasbourg was Sores Serekaniye, a veteran from operations to liberate Rojava. Sores Serekaniye, veteran of the Martyr Rubar Qamishlo Operation, pointed to operations against leftists, revolutionaries and patriots throughout the world and stressed that they must be fought against everywhere. Serekaniye said the prison resistance is important and called on all to embrace the hunger strikes that have spread throughout prisons.
FROM THE UK TO STRASBOURG TO SHOW SUPPORT
Doctor of International Law Osman Ismail was among the visitors to the hunger strike in Strasbourg yesterday.
Dr. Osman Ismail stressed that the isolation imposed upon Ocalan is unacceptable and pointed to the peaceful character of the hunger strikes. Dr. Ismail said Kurds are fighting for freedom in all parts of Kurdistan and that they are the same, referring to the importance of the people in all parts supporting the struggle with all that they have.