33 organisations condemn fascist attacks in Vienna
Fascist attacks in Vienna were condemned in a joint press statement organised by the Antifascist Solidarity Union.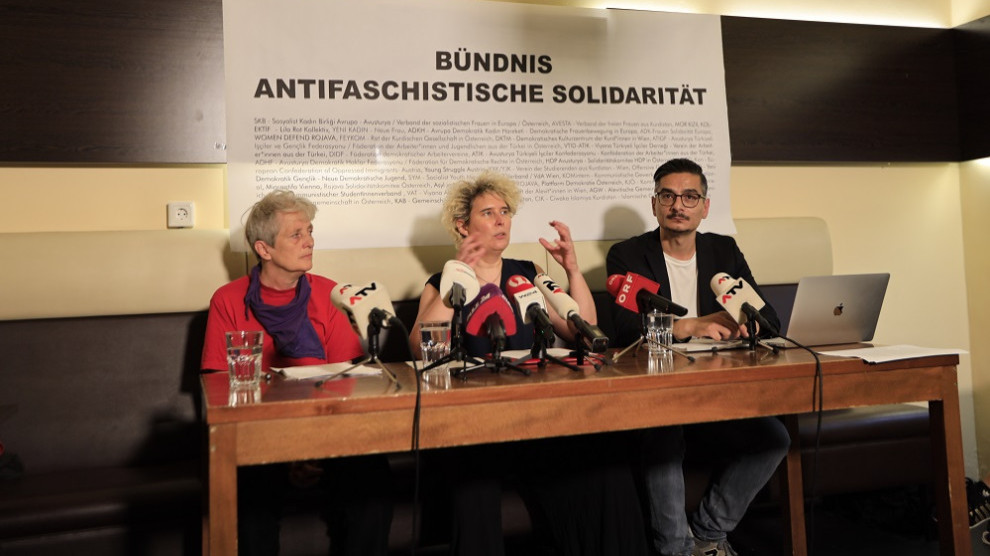 Activists condemned in a joined press statement organised by the Antifascist Solidarity Union the fascist attacks against the meeting of the European Women Solidarity to condemn "violence against women" organised regularly in Vienna and the EKH building.
Activists reminded that "the 10th rally organized by European Women Solidarity was attacked by an AKP / MHP supporter, fascist, sexist group. After this attack, on the evening of 24 July, the EKH building, where the representatives of ATİGF, VTİD, DİDF, and revolutionary, democrat, antifascist, progressive and autonomous forces were represented was attacked."
The statement added "the entire front of the building was destroyed, and an attempt was made to burn it. This attacks were organized by Erdogan's supporter and the group that defined themselves as jihadist and Grey Wolf."
The statement continued: "The massacres of women, the demand for equal wages and this attack against a whole women's struggle revealed an existing fascist, sexist and misogynist reality, but also the practices of the Austrian state that tolerate these attacks." The 33 institutions signing the statement reiterated their commitment to keep fascism at large.
The statement was signed by:
SKB – Socialist Women Union - Austria
AVESTA
MOR KIZIL KOLEKTIF
Yeni Kadın (New Woman)
Democratic Woman Initiative – Europe
Women Solidarity – Europe
Women Defend Rojava
FEYKOM
DKTM
ATIGF
DIDF
VTID – ATIK
ADHF
HDP Austria
Aveg-Kon
Young Struggle
YXK/YJK
Offensive Gegen Rechts
YDG
SYM
KZ Verband
KOMintern
Migrantifa
Rojava Solidaritätskomitee Österreich
Asyl in Not
Platform Defend Rojava
Plattform Demokratie Österreich
KJÖ (Kommunistische Jugend Österreich)
KSV (Kommunistische StudentInnen Verband)
VAT (Viyana Alevi Toplumu)
AABF
KAB
CIK