4-day demonstration for Öcalan in Hildesheim
Demonstration has been initiated in the German city of Hildesheim for the freedom of Kurdish leader Öcalan.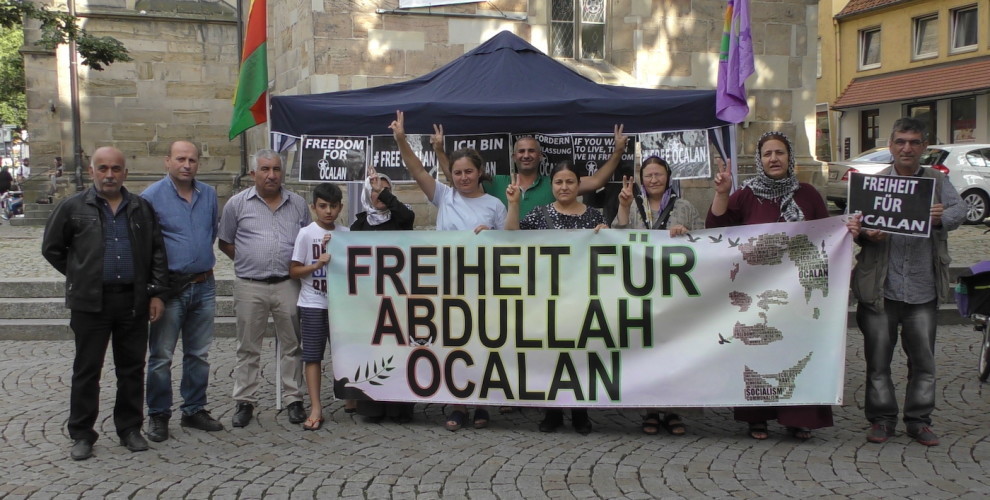 An information stand has been opened next to the St. Jakobi Church in Hildesheim city of Germany in protest at the aggravated isolation imposed on Kurdish People's Leader Abdullah Öcalan by the Turkish state. The stand will remain open for 4 days.
Hayat Donma, Spokeswoman of the Meryem Women's Commune that organises the action, said the following in the speech she held at the scene:
"With this action, we first of all inform the people living here. We want to make our voice heard all around the world. The Kurdish issue can only be resolved through the freedom of Abdullah Öcalan who is unlawfully held on the island of İmralı for nearly 20 years."
Speaking after, Meryem Women's Commune member Xeco Donma said that:
"As a Kurdish woman, I demand freedom for the Kurdish People's Leader. The isolation imposed on him is getting heavier every day. He is not allowed to meet with his family and lawyers. Kurdish people don't even know if he is alive or not. All these go against laws. Abdullah Öcalan is not an ordinary person. He is the leader of at least 40 million Kurds."
Xeco Donma continued:
"The European Union should put pressure on the Turkish state so that Abdullah Öcalan gains his freedom. The ongoing captivity of Öcalan means continued death for women and children, massacre, genocide and assimilation. However, his freedom will mean democratization, peace, equality and freedom. The Committee for the Prevention of Torture (CPT) must go to İmralı and prepare a true report as soon as possible."
Activists partaking in the action handed out hundreds of #FreeÖcalan flyers, chanting 'Bijî Serok Apo' (Long Live Leader Öcalan).