'90s practices spread in Germany by MİT's hands
The Turkish intelligence service MİT has been putting brochures slandering the Kurdish struggle in mail boxes of Kurds in Germany.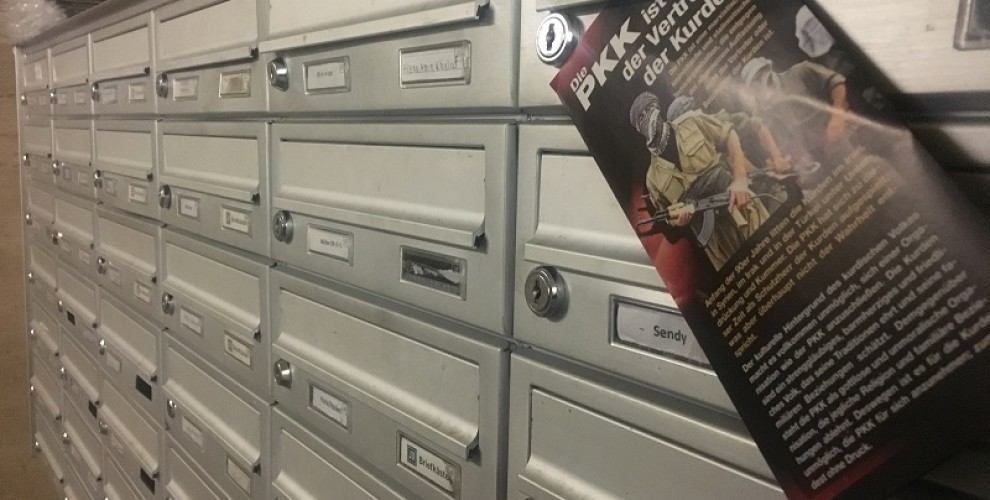 The Turkish special war concept that has been implementing oppression and massacres in Kurdistan and Turkey for decades practices various methods in Germany as well. The Turkish state is engaging in murders, espionage activity and profiling against Kurdish politicians, grabbing Kurds by the throat and oppressing people.
Brochures full of threats and slander against journalists, politicians and supporters of the freedom struggle sent by the JİTEM to Kurds' addresses in the 1990s have been revived in Germany by the MİT's hands. The brochures slander Kurdish organizations like the PKK, PYD and YPG in particular and include phrases like, "Kurds are a peaceful, sincere and religious people. Traditions and family are strong in Kurds. But the PKK, PYD and YPG are irreligious and without morals, and they reject traditions and the family. That is why it is impossible to equate the Kurds with the PKK."
It is significant that Kurds from Rojava are targeted, especially at a time when cities like Raqqa and Deir ez-Zor are being liberated.
Rojavan Kurds and many other residents of several districts in Mönchengladbach, Germany have received notices and brochures slandering organizations and parties like the PKK, YPG, YPJ and PYD in the mail.
A recipient of these notices, Omar Abdo stated that they fled ISIS and terrorism and went to Germany, but they are not left alone there either. Abdo called on Germany to take precautions.
"GERMANY SHOULD FIND THESE PEOPLE AND PUT THEM ON TRIAL"
Omar Abdo is a Kurd from Rojava who has received these threats as well. Abdo is originally from Efrîn. After the war broke out in Syria and Rojava, he came to Germany 2 years ago because of the threats by ISIS. But Abdo and his family were subjected to similar threats there as well. He has received brochures and notices threatening and slandering Kurdish institutions in his mailbox.
Abdo said the following on the matter: "Two days ago, I was coming back home and I looked in the mail box. I saw these notices and brochures. First I thought I was the only one who received them. But then I saw that everybody in the area did. There are things on these brochures that slander the YPG, YPJ and other Kurdish institutions. But everybody knows that the struggle of the Kurds is a struggle for humanity. There is a struggle for freedom against these terrorists."
Omar Abdo said Germany needs to ensure their safety and added: "The state should find out who did this. They should find these people and protect us. This is a democratic and free country. We want to live without problems here. But they don't leave us alone here either. We want precautions against these threats."
"THIS IS AN ALLIANCE BY TURKEY AND ISIS THAT REACHES INTO EUROPE"
PYD Düsseldorf regional administration Dersim Al Ali said these actions are geared towards slandering the Kurdish struggle which has seen much interest in Europe. Al Ali said: "Kurdish institutions like the YPG, YPJ and PYD have been targeted. There is a slander campaign here. This attack is an alliance by the Turkish state, colonialist powers and ISIS that reaches into Europe. They burned down villages and cities in Kurdistan. They attacked Efrîn, Kobanê and other places. These terrorists are killing people and committing massacres everywhere. This dirty alliance has now reached Europe. They won't leave our people alone here either. After their capital Raqqa fell, they dispersed throughout Europe. And now they are carrying out acts of terror against our people in Europe. Germany should find out the people engaged in these mafia and terrorist activities and put them on trial."