Action plan for protests in Germany today
In German cities there are protest actions today against the Turkish air offensive on Southern Kurdistan.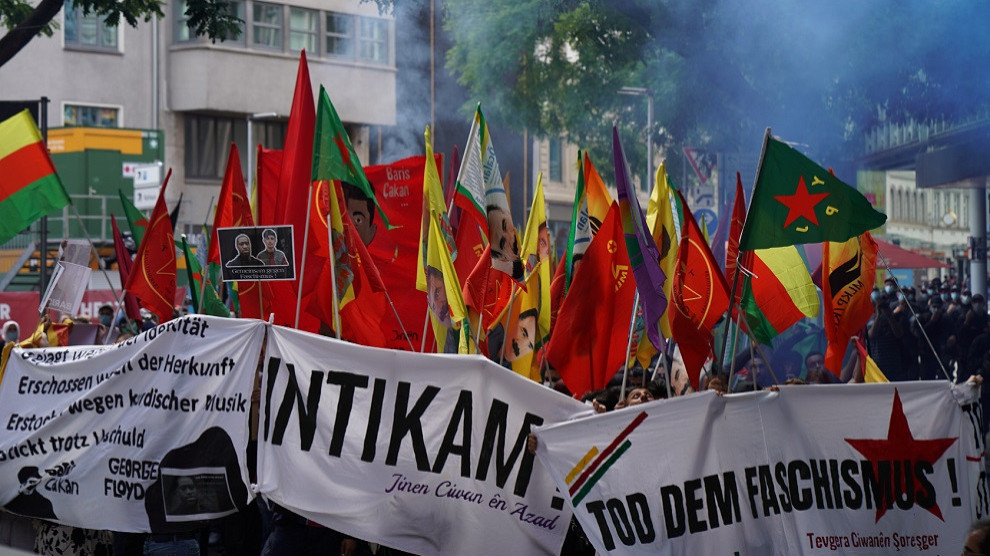 The Turkish Air Force carried out a massive operation in Southern Kurdistan last night. Dozens of fighter jets bombed not only guerrilla areas but also the surroundings of the UN-protected Maxmur refugee camp and the Yazidi settlement Shengal. All bombed sites are on Iraqi territory. The guerrillas did not suffer any casualties, and there is no information yet on the number of dead and injured in the civilian areas.
Protest actions aree taking place today in numerous cities in Germany. The following dates are known so far:
Berlin: 15:30 o'clock, Turkish Embassy
Bielefeld: 17:00 o'clock, central station
Bremen: 15:00 o'clock, central station
Duisburg: 17:00 o'clock, Königstraße
Düsseldorf: 17:00 o'clock, central station
Freiburg: 17:00, Place of the Old Synagogue
Gießen: 17:00 o'clock, Berliner Platz
Hanover: 17:00 o'clock, central station
Heilbronn: 18:00 o'clock, Kiliansplatz
Cologne: 17:00 o'clock, central station
Leipzig: 17:00 o'clock, Richard Wagner Platz
Münster: 18:00 o'clock, central station
Magdeburg: 19:00 o'clock, central station
Oldenburg: 18.00 o'clock, central station
Stuttgart: 18:00 o'clock, Schlossplatz
Munich: 17:00 o'clock, Karlsplatz/Stachus
Kleve: 18:00 o'clock, Deutsche Bank
Dinner: 18:00 o'clock, Willy-Brandt-Platz
Bonn: 18:00 o'clock, Münsterplatz Bonn
Hamburg: 18:00 o'clock, Altona in front of the Mercado
Hildesheim: 17:00 o'clock, Angoulemeplatz
Darmstadt: 17:00 o'clock, Luisenplatz
Kiel: 17:00 o'clock, central station
Frankfurt: 18:00 o'clock, Hauptwache