Activists at Geneva vigil: Our freedom struggle will continue and we will prevail
Activists holding a vigil in front of the UN headquarters in Geneva since 2021 condemned the Iraqi blockade of Maxmur Refugee Camp in southern Kurdistan (northern Iraq).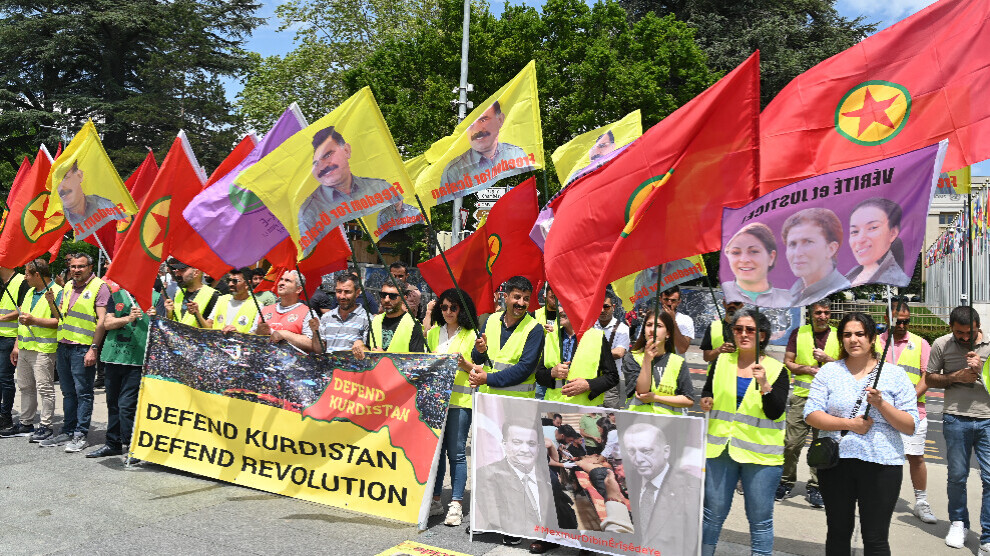 A vigil by the Democratic Kurdish Community in Switzerland has been taking place in front of the UN headquarters in Geneva since 25 January 2021. Every Wednesday, activists stage a protest in front of the United Nations building to demand the release of Kurdish people's leader Abdullah Öcalan. The action is carried out as part of the 'Dem dema azadiye' [Time for Freedom] campaign and directed against the isolation of the Kurdish leader on the Turkish prison island of Imrali, the Turkish occupation attacks on Kurdistan, the massacres committed in Kurdish territories and the silence of the UN.
Today's vigil began with a minute of silence paying tribute to the martyrs of the Kurdistan freedom struggle who fell in the month of May.
The activists this week condemned the Iraqi army's attempt to surround the Martyr Rüstem Cudi Refugee Camp in Maxmur with barbed wire and towers since May 20.

Speaking here, the eco-chair of the Democratic Kurdish Community Center in Geneva, Tuba Yılmaz, spoke about the Treaty of Lausanne which has left a hundred years behind. "The territory of Kurdistan was divided into four parts among four invading states as a result of this treaty, since the signature of which Kurdistan and the Kurdish people have been denied. The four invading states have become partners to this end. However, in this day and age, the sovereign states that concluded this treaty and drew borders have started to feel the need to touch the borders and draw new ones. The Turkish state is among the countries that have taken action so that the Kurds have no rights and no voice in this change. This is why the Turkish state is aggravating the isolation it imposes on Kurdish people's leader Abdullah Öcalan."
Remarking that Öcalan's ideas are hope and of great importance for the peoples of the Middle East, Yılmaz continued: "This truth was clearly witnessed in Rojava, and proven by the resistance of peoples in Shengal, Kobane and the entire region, and their fight against ISIS. The AKP   continues the isolation of Öcalan to maintain its hegemony in Turkey and Kurdistan. As was also revealed by the most recent elections, failure is inevitable without Öcalan's ideas. Of course, the Green Left Party faced countless obstacles but, unfortunately, could not achieve its goal. There are many reasons, but the situation is directly related to isolation, which needs to be broken through first in order to end the repression on the peoples of Kurdistan."
Yılmaz also spoke about the Iranian regime's atrocities against the Kurds, citing the execution of those who led the uprising that followed the murder of Jina Mahsa Amini. "The regime resorts to these executions and penalties to continue its atrocities against women and peoples. Still, this resistance will continue, no matter the cost."
Pointing to the Iraqi military siege of the Maxmur Camp, Yılmaz said: "They are trying to put our people under isolation. It is seen that the invading forces deepen the problems instead of resolving them. They try to crush the people's struggle for freedom by means of isolation, executions and penalties. We state hereby once again; our freedom struggle will continue and we will definitely prevail, no matter what they might do."