Activists in Europe protest fascist attacks
The invasion and genocidal attacks carried out by the Turkish state were protested in Vienna, Krefeld, Frieburg, Essen, and Florence.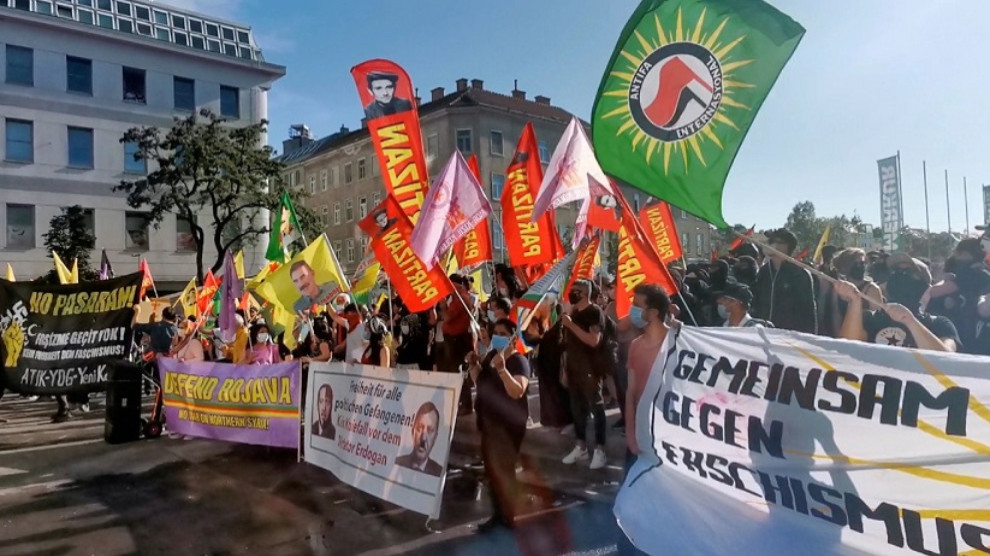 Demonstrations continue in many European cities against the Turkish state's genocidal attacks on the Kurds.
VIENNA
A rally and march were held in Vienna, to protest the Turkish government's attack on the village of Helîncê in Kobanê.
The Austrian Democratic Forces Union organized the rally and march which were joined by Kurds as well as environmental organizations, Turkish socialist left and Austrian anti-fascist groups.
Before the march a minute silence was held in memory of the martyrs of the Kurdistan revolution and the three Kurdish women who fell marytrs in Kobanê. Activists then marched to the Turkish embassy.
The demo lasted about 3 hours. Speaking at the rally, politician Berivan Aslan said: "We speak to the racist fascists here. The Kurds and socialists will never let them through."
KREFELD
In the city of Krefeld, the Martyr Uğur Şakar Council and German left parties protested the massacres carried out by the Turkish state with an action they organized jointly.
The march started at the main train station and ended in Heumarkt.
FRIEBURG
An action was held in the city of Frieburg for women political prisoners. The action organized jointly by Nuda Women's Council and the Women's Against War Platform was held in Rathausplatz.
ESSEN
The attacks carried out by the Turkish state were also protested in Essen with an action in front of the main train station.
FLORENCE
The attacks carried out by the Turkish state were also protested in Florence.