Activists in Toronto condemn brutal murder of Kurdish family in Konya
The brutal murder of a Kurdish family in Konya as a result of a racist attack was protested in Toronto, Canada.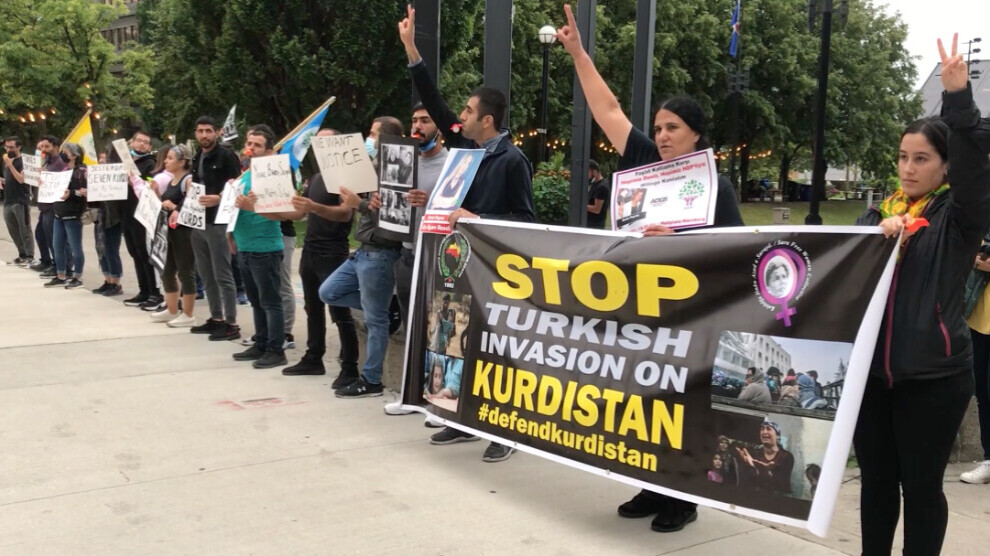 An action was held in Toronto to protest the 7 members of a Kurdish family killed in Konya. Dozens of Kurds attended the protest chanting slogans such as "Freedom for Kurdistan", "Turkey is killing the Kurds", "Long live the freedom of the Kurds".
Gathering in the North York Civic Center, one of the busiest spots in the city, the people distributed dozens of leaflets with the photos of the family members killed in Konya.
In the press statement, activists said: "After 2015, the state has reverted to its old Kurdish policy, namely the policy of 'expulsion, denial and destruction'. The murder of Deniz Poyraz in Izmir, the attack on the HDP branch in Marmaris, and the attack on a Kurdish family in Konya are the latest examples of the vile attacks of the state in this direction."
Emphasizing that the murder of a Kurdish family on 30 July was not an isolated incident, the statement said: "The AKP-MHP alliance knows that it will lose the next election and for this it sees the civil war as a way of avoiding it. Racist attacks on Kurds in Turkey have increased in recent weeks. These attacks are hate crimes caused by racism and discrimination and are attacks against Kurdish identity. The Kurds cannot stop the massacres against them by remaining silent. Not only the Kurds, but everyone who calls themselves human has a duty to do something to stop these massacres."
The statement added: "We call on the entire international community to increase their solidarity with the HDP and the Kurds. Show solidarity and support to Kurdish families who have been subjected to racist violence in Turkey, and add your voice to our call to the Turkish government to stop using hate language against the HDP and Kurds because this is what fuels racism."