Activists in Vienna and Lucerne show solidarity with Maxmur
Activists gathered in Vienna and Lucerne to show solidarity with the resistance of the population of the self-governing refugee camp of Maxmur and to call for an end to the siege by the Iraqi army.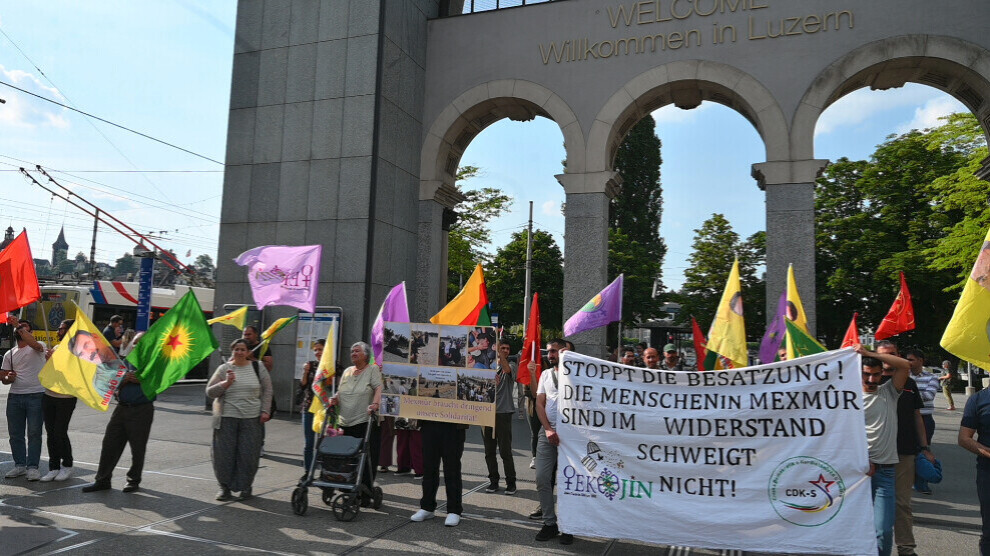 While the Iraqi army continues to besiege the Martyr Rûstem Cûdî camp in Maxmur in South Kurdistan and surround it with barbed wire, more and more people are showing solidarity with the resistance.
"Maxmur is the dignity of the Kurds"
Actions for the self-organized camp took place in Vienna and Lucerne on Thursday.
In Vienna, activists with banners gathered for a rally and repeatedly shouted "Long live international solidarity" and "Long live the Maxmur resistance". A banner said in Kurdish, "Maximur is the dignity and honor of the Kurds".
About 12,000 people have been living in the camp since the 1990s. They mainly fled from North Kurdistan after the Turkish state destroyed over 4,000 villages, and organized themselves collectively.
Protest in Lucerne: isolation policy pursued
The Democratic Kurdish Society Center in Lucerne also organized an action in solidarity with Maxmur.
At the rally, after a minute's silence for those who died, the co-chair of the community center, Mulla Şahin, said: "Maxmur is under the control of the UN and the people there have managed to live under the most adverse conditions. Now this camp is to be fenced off with barbed wire. But for days the people of Maxmur have been resisting. We Kurds know very well that behind the attack on Maxmur is the same policy that brought about the severe isolation of Reber Apo [Abdullah Öcalan] himself. Whenever Reber Apo's isolation is intensified, attacks on the Kurdish people and Kurdistan also increase. Aware of this, the Kurdish people will continue to resist both the policy of isolation and the Treaty of Lausanne, which is a hundred years old this year. This century will be the century of freedom for both Reber Apo and Kurdistan and the Kurdish people."