Activists protesting Turkey's use of chemical weapons outside the OPCW HQ detained - UPDATE
The activists protest the silence of the OPCW and other international institutions in the face of the crime committed by Turkey against the Kurds.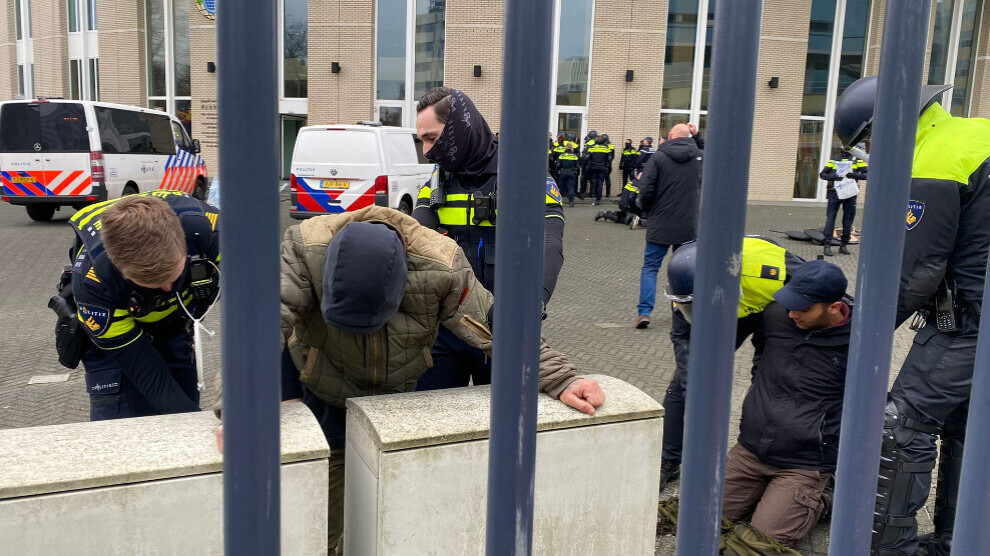 In the Dutch city of The Hague on Friday, around thirty activists were taken into custody during a civil disobedience action in front of the headquarters of the Organization for the Prohibition of Chemical Weapons (OPCW). The background to the action is the ongoing use of chemical agents by the Turkish army in southern Kurdistan (northern Iraq).
Allegations of the use of outlawed weapons against the guerrillas have been circulating since the beginning of Turkey's occupation operations in the regions of Avaşîn, Zap and Metîna, launched in April. In doing so, Ankara is openly violating the international law of war, yet the West does not see itself ready to act. Despite proven facts and numerous pieces of evidence, appeals by Kurdish institutions with demands to investigate the accusations fall on deaf ears.
The OPCW is an independent international organization established by the States Parties to the Chemical Weapons Convention. It monitors compliance with and implementation of this Convention and sets the framework for the destruction of chemical weapons. This week, the 26th Conference of the Parties to the OPCW met in The Hague. "We took this date as an opportunity to remind the organization of its duties, also on behalf of the 'Initiative against Chemical Weapons in Kurdistan', and to call on it to investigate the extent of the chemical weapons attacks carried out in their hundreds by the Turkish army in southern Kurdistan since April," a spokesperson for the Kurdish youth movement said about the action.
"We demand that the OPCW, the United Nations and the International Red Cross include the use of banned weapons in Kurdistan in their agenda. There must be an independent investigation into Turkey's use of chemical weapons in Metîna, Zap and Avaşîn and sanctions against the Erdogan government. The Kurdistan National Congress (KNK) is in possession of samples from the affected region. The institutions we are addressing today are urged to examine these samples and share the results with the public," the activist said.
The arrested activists were taken away to be identified. They are facing charges of trespassing.