Amed citizens speak about a spectacular Newroz festival
After the Newroz festival in Amed attended by around one million people, citizens spoke about the celebration. "Women, mothers, young people and even children resisted and went to the festival. This Newroz was imbued with the spirit of serhildan."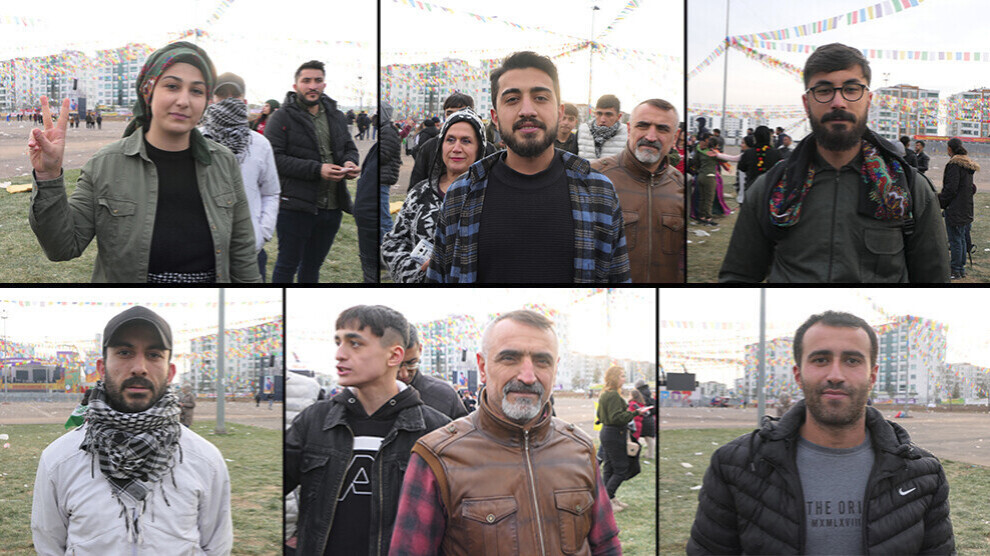 The residents of the northern Kurdish metropolis of Amed (Diyarbakır) said that the Newroz festival was against harassment and repression. They defied police barricades and did not let water cannons, tear gas and arrests stop them from sending a signal of resistance. A number of citizens spoke to ANF about their experiences.
Rude searches to enter the festival
Ömer Öner: This Newroz was a bigger festival compared to the last three years. Thanks to everyone who came. We had very great difficulty getting into the area where the festival was taking place. We had to go through four checkpoints. At these points we were searched from top to bottom down to our shoes.
"People came to Newroz celebration through resistance"
Ahmed Şenyiği: As you know, Amed is the capital of Kurdistan. All Kurds come here on 21 March. The Turkish state wants to prevent many people from gathering here. It created many problems, but the Kurdish people went to the Newroz celebrations in spite of everything. Women, mothers, young people and even children resisted and got onto the festival site. In this Newroz the mood of serhildan (uprising) prevailed.
Scarf confiscated and threats of arrest
Iknur Ak: We had to go through four checkpoints to enter the square. I had a yellow and black scarf. They took that away from me. When I reclaimed it, they threatened me with arrest.
"No one can forbid me to wear my traditional dresses"
Süleyman Bayram: As always, Newroz was celebrated with great enthusiasm. The obstacles were greater than ever. We arrived at 10 am but didn't make it into the festival area until 3 pm. They searched us again and again. They threw gas grenades. Those arrested became the target of violence. Our traditional dresses were banned. We are not even allowed to go in our own clothes. I came to celebrate Newroz. Nobody can forbid me to wear my traditional clothes. I brought them secretly.
"Festival of resistance despite all obstacles"
Alin Kandemir: This Newroz passed for us as a holiday in a spirit of resistance. We overcame the obstacles and difficulties and got onto the site. Despite all the obstacles, we celebrated our party.
"If we are attacked, we will defend ourselves"
Ümit Yılmaz: We were there at 9.30 am. They made us wait until 3 pm. Nobody can take Newroz from us. We don't insult anyone, we don't throw stones or sticks, but if someone comes and attacks us, we defend ourselves.