Amed: Trustees are an attack on Kurdish identity and language
The Democracy Vigil held in Amed, Mardin and Van has continued for a month.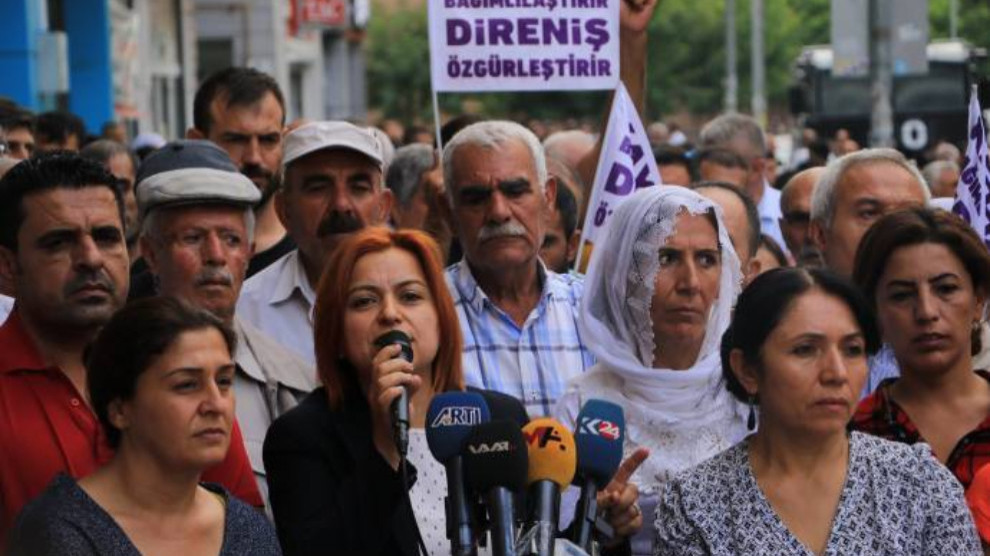 On August 19, the AKP regime seized the metropolitan municipalities of Diyarbakır (Amed), Mardin and Van which had been won by the Peoples' Democratic Party (HDP) in the local elections of March 31. The elected co-mayors were removed and governors of the three cities were appointed as trustees to take over the administration of the municipalities.
HDP deputies and local politicians, as well as people, civil society organizations and democratic circles have been holding a Democracy Vigil in the three cities since the usurpation of municipalities.
The vigil held in Amed on the Lise Avenue close to the city hall continued on the 30th day under police blockade. Today's protest was participated by dismissed Co-mayor Eşbaşkanı Selçuk Mızraklı, HDP deputies Gülistan Kılıç Koçyiğit, Saliha Aydeniz and Dersim Dağ, as well as Kurdish PEN members and Peace Mothers from Cizre, a district of Şırnak province.
Speaking at the press statement, Kurdish PEN Co-chairperson Sami Tan stated that the attacks against municipalities are at the same time aimed at the language, culture, identity and literature of the Kurds. "For this reason, we value and support the struggle given against it. We make it clear, we will live with our own language, identity and culture," he said.
Speaking on behalf of the Kurdistan alliance, Kurdistan Communist Party (KKP) Leader Sinan Çiftyürek stated that the ignorance of the Kurdish people's will was not only HDP's problem. He called on all Kurdish circles to support this struggle.
HDP Muş MP and Peoples' Democratic Congress (HDK) Co-spokesperson Gülistan Kılıç Koçyiğit said; "The will manifested here will send away the AKP government that is exhausted, has lost everything it had, and implements policies based on Kurdish hostility alone."
Koçyiğit remarked that Ergenekon and the Special War Department, joining hands with the AKP, sought to separate the peoples of Turkey from each other. She underlined that their raison dĕtre was to solve the problems of their people, and that they would never give up on this mission.