Another police attack: Mothers dragged on the ground
Peace Mothers gathered in Kiziltepe, Mardin to draw attention to the hunger strikes were attacked by the police and dragged on the ground.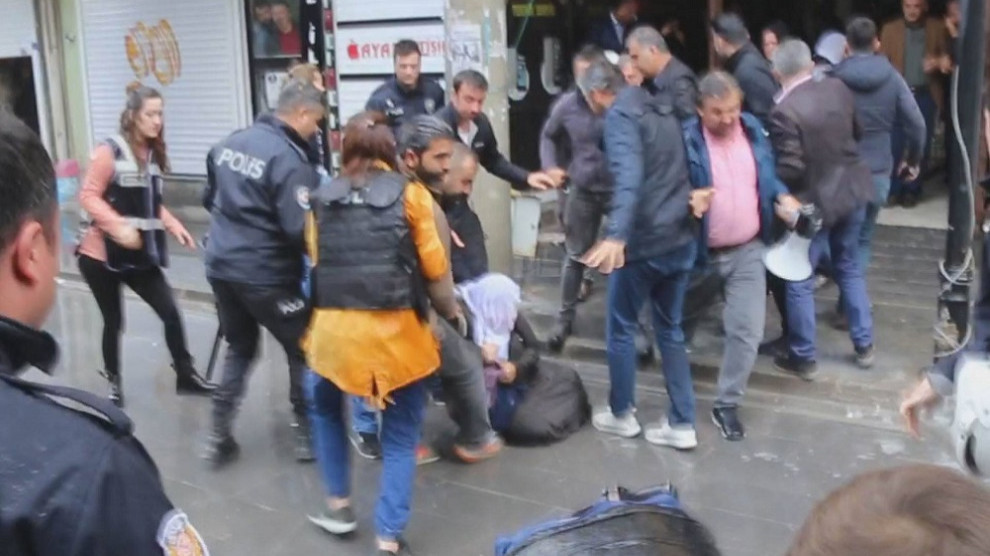 Following the public outrage for the police harrassment of mothers holding a vigil in front of the Gebze Prison for their children on hunger strikes, the police attacked another group of mothers in Mardin's Kiziltepe district today.
Peace Mothers Assembly members were to hold a press statement and sit-in to draw attention to the ongoing hunger strikes in prisons against the isolation imposed upon Kurdish People's Leader Abdullah Ocalan today, and HDP and DBP administrators, HDP Mazidag Co-mayor Nalan Ozaydin were to attend the protest in support.
DRAGGED MOTHERS ON THE GROUND
The police surrounded both parties' offices before the statement and argued that they would not let the statement be made. During the talks, the police forcibly confiscated the signs the Peace Mothers were holding.
When the mothers protested the confiscation, the police tried to drown out their voice by playing the sirens of the water cannon.
Peace Mother Hevlet Oncu started to read the statement despite the police intervention and said they have no patience for another body to come out of a prison. Oncu was still speaking when the police attacked the group with pepper spray and water cannons.
The police also dragged Hevlet Oncu on the ground after she fell. HDP District Co-chair Sirin Obek was lightly wounded by a blow to her face. DBP Mardin Province Co-chair Sehmuz Sun had some bleeding on his face due to high pressure water.
DETENTIONS
DBP Administrator Sukran Erol and Mazidagi HDP District Co-chair Mesut Urun (whose foot is in a cast) and one more activist was battered and detained by the police while the Peace Mothers group went in a passage to avoid police brutality.
The people gathered in the Kiziltepe Freedom Square to protest the police's attack were also attacked by the police and 2 unidentified young men were detained there.