Anti-war and Peace rallies in Duisburg and Nuremberg
Events for the anti-war day and the September 1 World Peace Day were held in Duisburg and Nuremberg. Kurds living in both cities joined the events.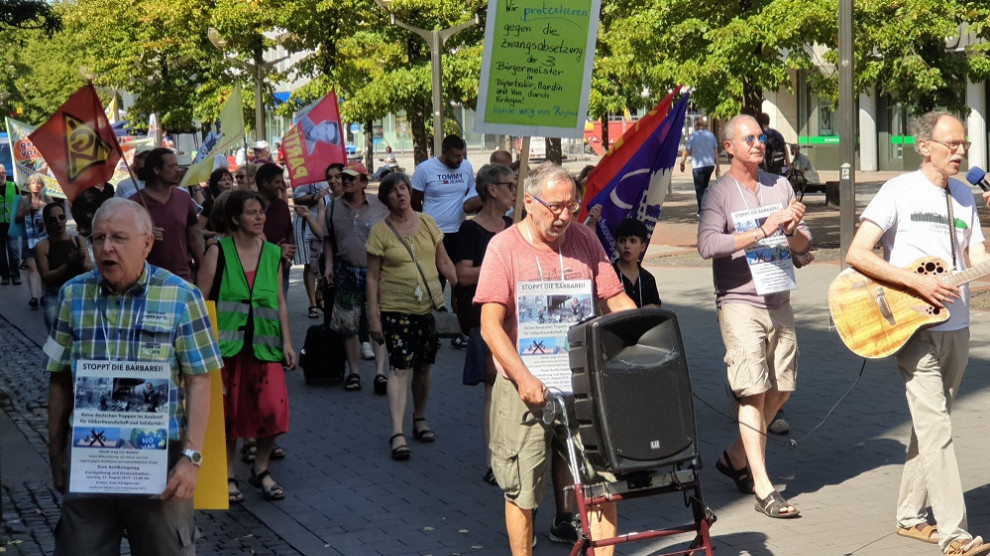 Kurds and their friends joined the events organised by Duisburg Democracy Platform for 31 August Anti-War Day March.
At the march, the Kurds denounced the appointment of trustees to the HDP-run municipalities of Amed, Van and Mardin.
During the march, which condemned the Turkish state's preparations for the attack on Rojava, it was stated that the European Union and the German state should take a firm stance towards these attacks.
The mother of German citizen Ismet Kiliç, who was detained in Slovenia and is risking extradition to Turkey spoke at the meeting. She said that her son Ismet has been sentenced to 12 years in prison for his speeches.
Rally in Nuremberg
On the occasion of World Peace Day a rally was held in Nuremberg on Saturday. The rally was attended by Kurdish Democratic Society Center, DITIF, and other Kurdish associations and institutions as well as by German parties, such as Die Linke.
The Kurdish organisations protested the AKP-MHP government seizure of the HDP-run municipalities.