"Attack on HDP is not an isolated incident"
HDP administrators underlined that Wednesday's attack was not coincidental and was aimed at all democratic forces in the country.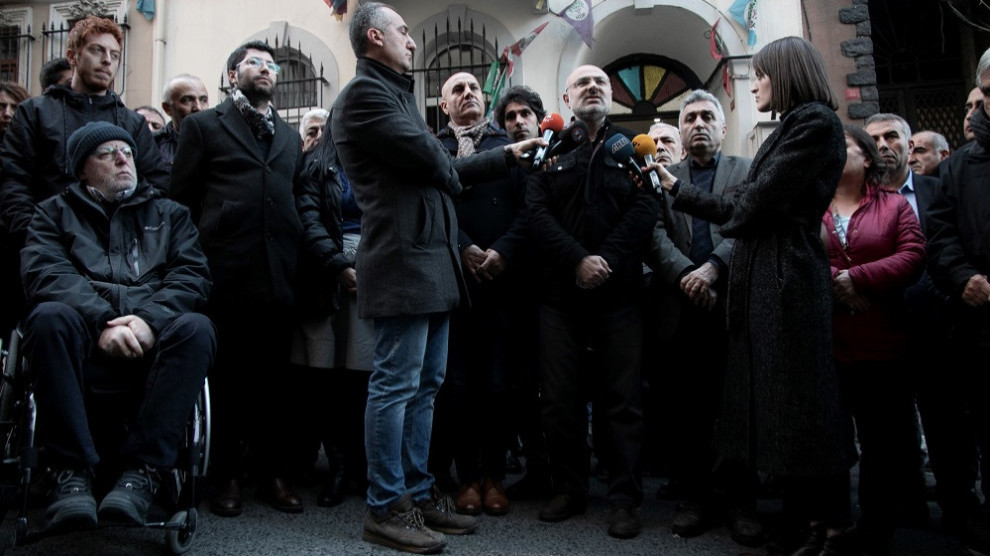 HDP (Peoples' Democratic Party) office in Beyoğlu district of Istanbul was targeted by an armed attack Wednesday afternoon. Seven gunshots were fired at the office at around 15:00 local time. The assailant M.S.H. then took refuge at the nearby police station.
HDP deputies, administrators and people gathered in front of the office where a press statement was made in response to the attack.
Speaking here, HDP Istanbul branch co-chair Elif Bulut, who was at a meeting in the office at the time of the attack, said that the attack could have resulted in deaths, which was luckily not the case.
Bulut noted that the assailant had come to the HDP office and drunk tea there two days ago. She pointed out that the attack could not be an individual action but was indeed in connection with the criminalization of the party by the government and the media of Turkey.
According to Bulut, the attacks against the party are encouraged by the provocative statements of the government officials, from the President to the Minister of Interior. She stressed that enhancing the democratic struggle was the only way to avert similar incidents.
"OUR STRUGGLE HAS CONTINUED UNINTERRUPTED"
Speaking after, HDP Istanbul branch co-chair Erdal Avcı emphasised that the attack was not an isolated incident, and that the language and practices of the government officials paved the way for attacks of this kind.
Avcı said the attack was a planned one and born a message against both the HDP and democratic forces. According to Avcı, the attack aims to bring Turkey to the verge of a conflict. He, yet, stressed that this attack would not achieve its goal as was the case in previous incidents.
"We have been subject to even more serious attacks but have continued our struggle uninterrupted and became the main democratic opposition party of Turkey," he added.
"WE WILL NEVER BEND THE KNEE"
HDP İstanbul MP Musa Piroğlu pointed out the previous attacks against the party and noted that today's attack was induced by the tendencies of the government.
Piroğlu said the attack was aimed at not the HDP alone but all labor forces, adding; "Unless the Kurdish question is resolved fairly, nobody will be free. We have experienced attacks of this kind in the past as well. Deputies and administrators of our party were attacked and insulted several times. Those who have guided this assailant and those who stand behind him must know that we never bent the knee so far and will never do so. We will continue to defend ourselves and all the values of democracy in the country."
Piroğlu emphasised that the government would be responsible for any unfavorable actions against the HDP, adding; "These attacks are aimed at all democratic forces. We will either repel them or pay for it together."