Ban for the train crash, "sultan" ceremony for Erdoğan
As the "accident" in Çorlu, Tekirdağ where a train got off the rails kills at least 24 people, Turkish President Recep Tayyip Erdoğan is busy minting coins in his name and preparing a giant ceremony with the cavalry.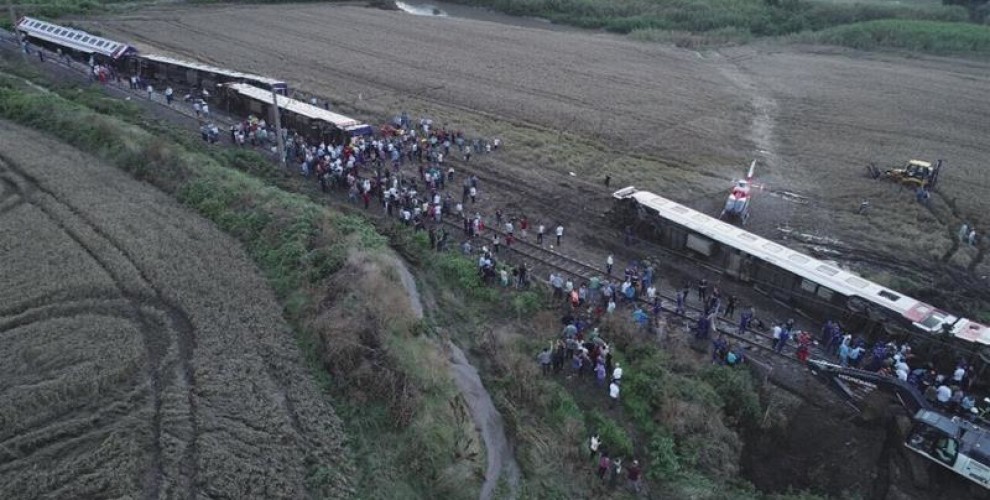 5 carts in a high-speed train on the Kapıkule-Istanbul route got off the rails on Sunday. According to the Ministry of Health Undersecretary, 24 people lost their lives while 318 others were wounded.
The Ministry of Transportation, Maritime and Communications said, "On July 8, the Train No.12703 on the route Uzunköprü-Halkalı with 6 carts, 362 passengers and 6 personnel had 5 carts leave the rails and topple over at approximately 17.00 as it crossed Km 162 between Balabanlı-Çorlu."
BAD WEATHER?
Officials chose to explain the accident with "bad weather". The Ministry of Transportation, Maritime and Communications said, "It has been determined that the accident occurred when excessive rain dislocated the earthen layer between the culvert and the rails."
WHY THE PRESS BAN?
As soon as questions arose regarding the accident, the Prime Ministry issued a temporary press ban on the matter. Authorities are rejecting the possibility of negligence.
MAINTENANCE BID CANCELLED
The newspaper Cumhuriyet uncovered a serious scandal about the accident in Çorlu: The paper wrote that a bid was planned for maintenance works for the train track on June 11, but the bid was cancelled 3 days before the election because the funds allocation order never came through.
ALL STATE RESOURCES LAID OUT FOR ERDOĞAN
Turkish President Recep Tayyip Erdoğan issued a message of condolence for the accident and claimed that all resources the state has have been mobilized, but it is apparent that the resources have been laid out for the "sultanate" ceremony.
Erdoğan's oath ceremony was in progress in the Parliament as the accident occurred, and there will be a giant ceremony today in the Palace. Religious groups will be participating in the ceremony where Erdoğan will be greeted by a Mehter company playing Ottoman military marches. After Erdoğan enters the palace, accompanied by the cavalry, 101 counts of cannons will be shot in land, navy and air forces command headquarters. A special 1 Lira coin will also be minted for Erdoğan. Guests in the ceremony will be given the special coins, and some coins will be put in circulation.