Bicycle Tour in Berlin: Expose War Profiteers!
Around 70 people came to Berlin-Moabit for a joint bike ride under the motto "Expose war profiteers - tanks to bicycles! No weapons for Erdogan!".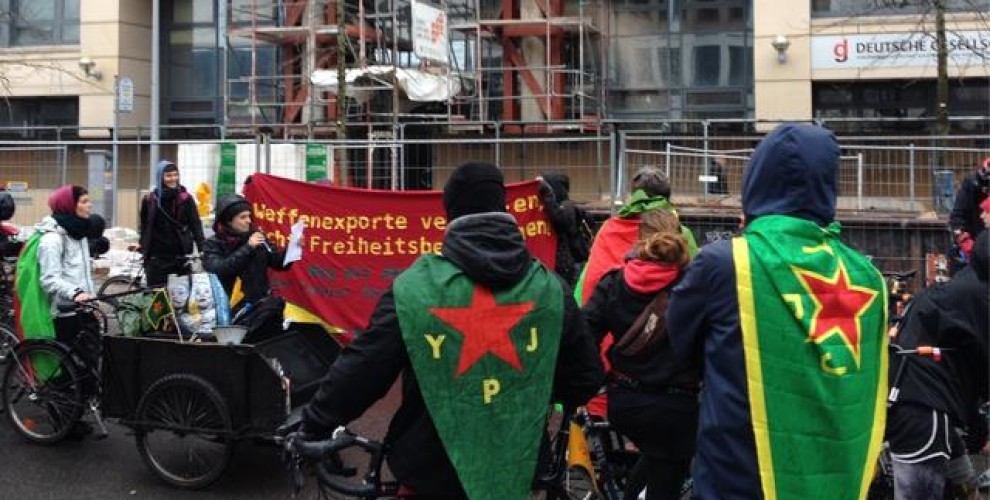 As part of the nationwide Tatort Kurdistan campaign, various locations of German armament companies and war profiteers were headed for in Berlin.
The call to the campaign states: "Between 18.12.2017 and 24.01.2018 alone, the German government authorized 31 arms exports to Turkey. Using German Leopard-2 tanks, German G-3 assault rifles and German-powered artillery, civilians and YPG/YPJ fighters are being killed in Afrin, houses and infrastructure are being destroyed ... "
Despite the rain and cold weather and a large police force, the protest started yesterday afternoon at Turmstrasse and visited the stations in the following order: ThyssenKrupp Plastics - Friedrich-Krause-Ufer 16-21 / 13353 Berlin, SPD headquarters - Müllerstraße 163, Pierburg GmbH - Scheringstraße 2 / 13355 Berlin, Rheinmetall Office - Voßstraße 22/10117 Berlin, Commerz Bank and Deutsche Bank - Friedrichstraße 62/10117 Berlin, Maritim Hotel - Stauffenbergstraße 26/10785 Berlin and Turkish Embassy - Tiergartenstraße 19-21 / 10785 Berlin.
Between the respective locations, which are distributed across Berlin, pedestrians chanted slogans such as "All Occupiers Get Out of Kurdistan!", "German Weapons, German Money Murder All Over the World!" or "All Together Against Fascism!" Each of the stations was marked by specific speeches, which made the respective connection of the visited places with the ongoing war businesses, in the form of small rallies.
As part of the action, the Maritim Hotel was again referred to separately: "Not only did the chain of hotels open the door to the so-called "extremism conference" of the right-wing party AfD on March 18, 2017. On May 8, 2018, the general meeting of the Shareholders of Rheinmetall AG will take place here. Maritim Hotel is thus the most disgusting part of a war-glorifying tradition and is making an active contribution to supporting wars and the ensuing killings of civilians and, as seen in Afrin, and the attack on freedom movements. " the activists commented.
At the Turkish embassy, ​​the protest tour was ended, after which an activist was detained and a criminal case against him was initiated.