Blockade for Rojava at Frankfurt Airport
At Frankfurt Airport, the counters of Turkish Airlines have been blocked again. A similar action at the same airport had taken place a week ago.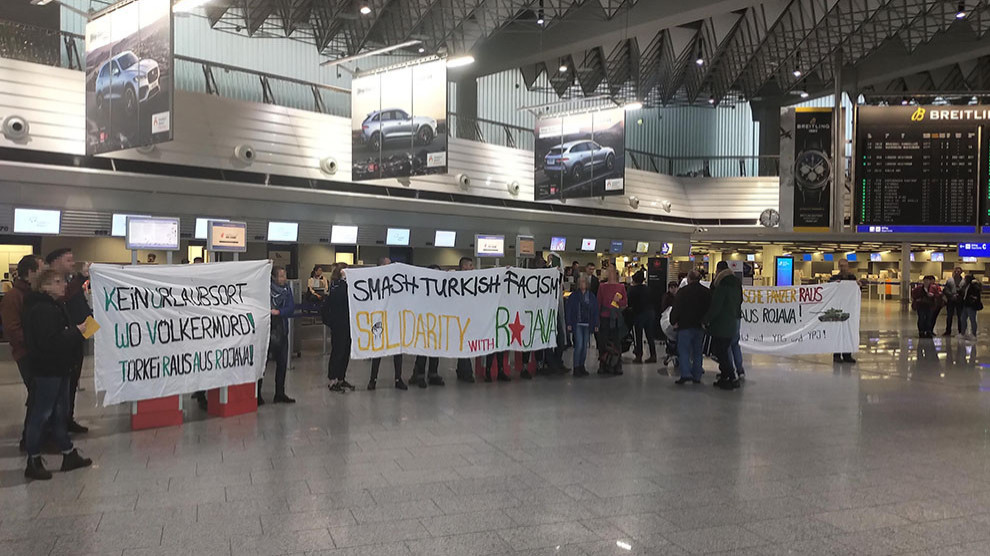 Activists formed a human chain in front of the Turkish Airlines counters at Frankfurt Airport in a demonstration in solidarity with the resistance against Turkey's invasion of North and East Syria.
The demonstration took place as part of the global "World Resistance Day" for Rojava. The participating activists held up banners with inscriptions such as "No holiday resort where genocide takes place - Turkey out of Rojava" and "German tanks out of Rojava" and thus blocked the clearance.
Some Turkish nationalists reacted aggressively but there were no physical conflicts.
Turkish Airlines is a partly state-owned airline and closely linked to the AKP regime. With excessively displayed military greetings and corresponding pictures on social networks, a large part of its workforce shows its sympathy with the policies of the Turkish head of the regime Recep Tayyip Erdoğan and the invasion operation against Rojava. Dozens of similar actions against Turkish Airlines have already taken place worldwide.