Brazilian Left Front in solidarity with Leyla Güven
100 days of hunger strike: ​Leyla Güven is joined by more than 300 people in hunger strike against Turkey's authoritarian regime and for the ending of solitary confinement of Abdullah Öcalan.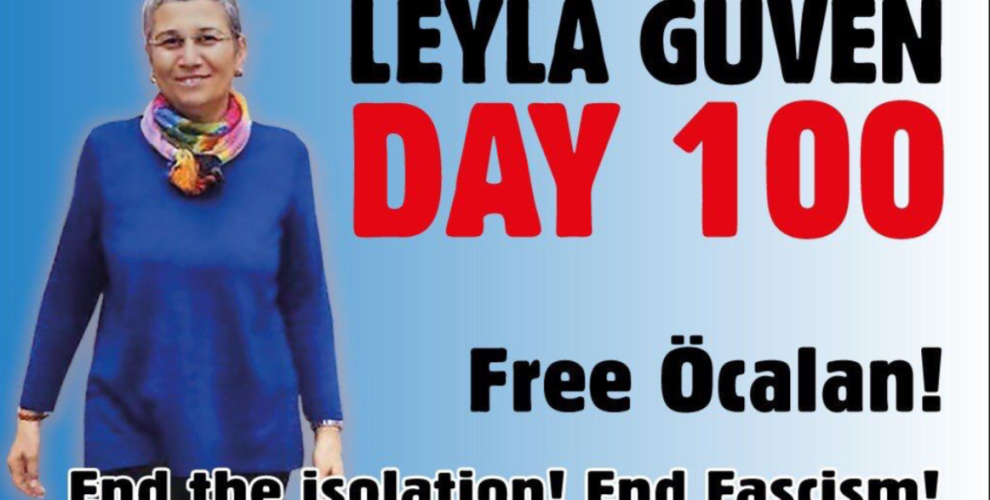 Brazilian Left Front released a statement of solidarity with DTK Co-chair and HDP MP Leyla Güven who is on the 100th day of her hunger strike against the isolation regime imposed on Kurdish People's Leader Abdullah Öcalan.
The statement reads as follows;
"Today is the 100th day of Leyla Güven's hunger strike. On November 7, 2018, the HDP (People's Democratic Party) MP announced an indefinite hunger strike in protest against the solitary confinement of Kurdish political prisoners and the leader of the Kurdistan Workers' Party (PKK) Abdullah Öcalan, who has been sentenced to life in prison and has been jailed since 1999. Güven has been a target of the Turkish government due to her protest against Turkish illegal military invasion and occupation of Kurdish regions and Turkey's continuing human rights violations. On January 31, 2018 she was jailed and sentenced to 31 years and 6 months in prison.
The Turkish state has been persecuting Kurds as well as Armenians, Christian and other ethnic minorities since its establishment in 1923. Kurds have been denied their basic human rights, their territory, their language, culture and identity. They have been expected to change their personal names to access the public services such as education and to find work in the public sector or Turkish companies. Many Kurdish people, to be able to survive in this extremely racist society, hold two names, one for "public affairs" and another one to use among their Kurdish community. Every aspect of Kurdish lives has been denied. According to Dr. Hussein Tahiri, the Turkish state's assimilation policy characterizes a cultural genocide, as the 1994 draft of United Nations Declaration on the Rights of Indigenous Peoples defined: "the destruction of the cultural heritage of a group in such a manner that the group as a distinct entity no longer exists". Due to heavy lobbying, this draft was cut out of the final version of the document.
As Kurdish people resist the Turkish state by re-affirming their existence, they also experience a physical genocide (Tahiri, 2018) as well as other forms of coercion such as mass imprisonment. Such violence and denial of basic rights rarely receive international attention. In 2000 another hunger strike aiming to highlight the situation in Turkey ended up with the death of 122 political prisoners.
On Monday a demonstration called in support of the hunger strikers was stopped by the police. Forbidden to march, HDP Co-Chair Sezai Temelli read a press statement expressing their reasons: "We have gathered here to create awareness of the protest, in which Leyla Güven is on the 96th day of her hunger strike, dear Nasır Yağız is on his 83th day, more than 300 arrestees and convicts are on the 57th day, Sebahat Tuncel and Selma Irmak are on the 27th day".
As Brazilians we do not expect any kind of solidarity from our government, which is ruled by a president that has been compared to the Turkish president Erdogan due to their shared authoritarianism and expressive disgust for human rights. Bolsonaro has already shown a deep lack of sensibility on the Middle Eastern political affairs with his intentions to move Brazilian embassy in Israel to Jerusalem. We aim, by joining the call of Angela Davis, the deputies from the Left in the European Parliament and many activists, to appeal for international solidarity from people around the world with the Kurdish people. For the end of E-Type Closed Prisons as a minimal request to end violations of human rights in Turkey. For the end of Öcalan's life-long solitary confinement.
Öcalan, Güven and the Kurdish people are being criminalized for fighting for their right to live and for self-determination. Hunger strike is the last act of resistance a person can resort to. By keeping the political opposition in solitary cells, Erdogan assumes that he wouldn't find any resistance against his rule. He expects the world would forget them.
The Turkish government has shown no intention to dialogue with the protesters. Güven says that it will be a death strike if needed. In response to her daughter Sabiha Temizkan's concerns for her life, Güven responded that "other children are suffering, other mothers are crying". It is the struggle of a people.
To stop this suffering and to support the Kurdish cause, you can pressure the European Committee for the Prevention of Torture to pressure Turkey to end the isolation of Abdullah Öcalan. You can write to your local MP to bring the issue to your national government to do the same. You can also find below a petition you can sign. Spread the word.
Link for the petition: https://www.change.org/p/leyla-guven-petition-for-leyla-guven
Leyla Güven is sentenced to 31 years and 6 months in prison. She has been a target of the Turkish State since 1994 when she joined the Women's Organization of the People's Democracy Party (HADEP). Güven committed her life to the fight for human rights and women's liberation. An important figure in the Kurdish movement, she defends the autonomy not only of the Kurdish people but the people in general. The Democratic Confederalism, as the movement's theoretical body, proposes a new way of social organizing, challenges gender roles rejecting men's dominance, defends an environmental friendly society without power distinction between different ethnic minorities, which get together in a council organized political system. Such project is ongoing in the city of Amed."