British lawyers visited hunger striker Sis in Newport
British lawyer and campaign consultant for Peace in Kurdistan, Melanie Gingell, was in Newport at the weekend to visit hunger strikers Ilhan Sis.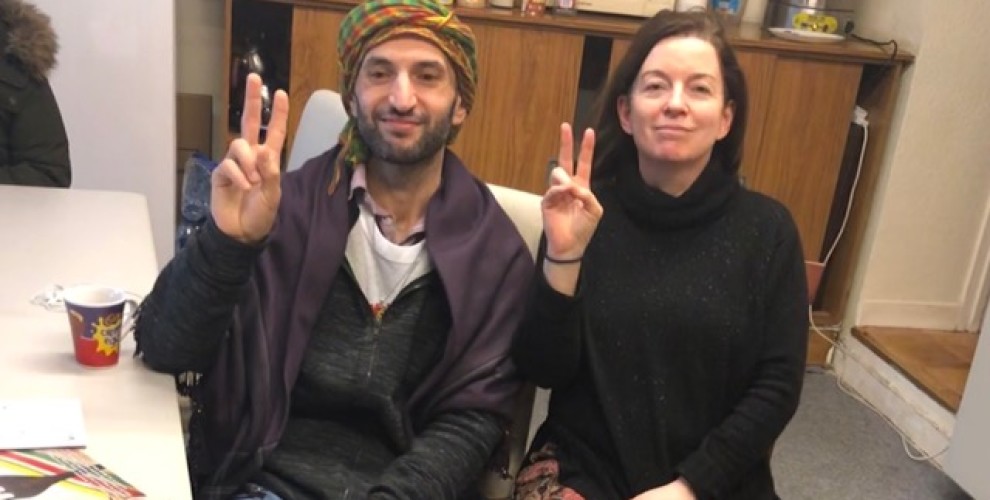 British lawyer and campaign consultant for Peace in Kurdistan, Melanie Gingell, was in Newport at the weekend to visit hunger strikers Ilhan Sis.
Gingell went to Wales together with academic lawyer Val Swain and spoke to ANF about the visit.
First of all can you tell us a bit about your work and who else went with you to visit Ilhan Sis?
I am a British lawyer and campaigns consultant for Peace in Kurdistan, an organisation working to support a political and peaceful solution to the Kurdish Question. The organisation has worked tirelessly to this end since 1994, by providing information to British political institutions, lobbying, sending delegations of lawyers and academics to the region and generally disseminating the message of the Kurdish Freedom Movement.
Could you tell us about your visit with Ilhan Sis?
On 8 February I visited Ilhan Sis, a young Kurdish man, in Newport Kurdish Community Centre together with academic lawyer Val Swain.
We visited in order to show solidarity with Ilhan who had by that stage been on hunger strike for 54 days and to try to understand why he had decided to take this extreme step, and to identify the issues that he believed were worth dying for.
We wanted to amplify his voice and to spread his message as widely as possible.
There were many friends and comrades of Ilhan at the community centre and it was clear that he is well supported in the community and that there is a ground swell of support for his action. His hunger strike is in solidarity with Leyla Guven MP who has completed more than 90 days without food. Her action has inspired over 250 political prisoners in Turkey to take similar action and many more across Europe including Ilhan in Newport and a group of 14 in Strasbourg.
What did you talk about?
I asked him first about what had inspired him to take this action, why was he on hunger strike?  Ilhan was happy to discuss at length his primary objective which centres on ending the isolation and persecution of the Kurdish people as embodied in the person of the Kurdish leader Abdullah Ocalan, imprisoned for almost 20 years on Imrali Island in Turkey. 
He said: "I don't see myself as a free man. We are not a free people. The Kurds as a people have no expression, no space. The Turkish State is trying to break our will.  We will not accept this. Kurdish people always say we want a free life, we have no other choice. I say in tune with this, here and now, there is only one option for us now and that is a free life. That is what I am struggling for. The freedom of Ocalan represents the freedom of the Kurdish people. We are ready to die for our freedom because what we have now, this is not life."
Ilhan added: "When you live in slavery, when you can't express your identity, that is no life. We cannot live in slavery. We love life so much we will die for it." "…When I talk about life, that should be in a free, democratic and equal society. This life that we have is like a prison."
Ilhan went on: "I don't want to die, who wants to die? Everybody loves freedom but when you can't get freedom, you have to struggle, to struggle seriously. I feel I am a slave in this capitalist system. That's what we have to show to the people."
"This culture, this language I have, it came from history. As Kurdish people we need a community, a society, a nation, we can't stand back while our history, our language, everything is destroyed. I have to fight for it. While the Kurdish people are denied, are subjected to massacres, we have to resist. The Turkish State is threatening Kurdish cities every day, look at the threat to Kurdish cities in Syria now from the Turkish armies. The Turkish State is more serious than us, it's very serious. 
The hunger strike is led by Leyla Guven, the HDP Hakkari MP who is now on day 98 of her hunger strike.
She spontaneously began a strike last November in response to her treatment in a Turkish jail where she has been detained for over a year simply for criticising the Turkish invasion of Afrin in Northern Syria.
She places her detention in the wider struggle that Ilhan has been discussing. It is part of the silencing and denial of the Kurdish people. She is a democratically elected politician like all the MPs in the Turkish Parliament but she along with many other Kurdish Politicians and members of the HDP (People's Democratic Party) have been imprisoned. The original co-chairs of the party, Selahattin Demirtas and Figen Yuksedag are both facing extended jail terms for speech crimes, again simply for expressing peaceful ideas and opinions.
I asked Ilhan if it was important that his hunger strike had been inspired by a woman, whether it made a difference.  He responded that Ocalan always saw women as  friends and comrades, in contra-distinction to many other political movements in which the women's place is not privileged, even on the left. That's why thousands of women joined the PKK in 80s and 90s. Ocalan fought for women to be freed from slavery, from the feudal structures that existed in traditional Kurdish society, in which women had no right to speak, even in their own families. He swept all that away. He gave knowledge of the Kurdish women's history. So Kurdish women see Ocalan as a hero of women's liberation. It's very important therefore that Leyla Guven started this hunger strike. It shows to the whole world that Kurdish women say that they are not free without Ocalan's freedom. These demands are the demands of millions of Kurdish people, women and men.
What about solidarity from Welsh people, politicians, associations?
We asked about the solidarity he has experienced from other groups, and politicians. He has had many visits from friends from the community, from Plaid Cymru, the youth wing of Plaid Cymru has been particularly strong. Liz Saville Roberts of Plaid Cymru phones him regularly and the local labour MP, Jessica Mordan has visited. The Cardiff Kurdish People's Assembly visits regularly as well as the Anarchist Federation.  Selma James of Global Women's Strike is coming on Sunday. This is not enough however, he says, we need more solidarity, more publicity, more exposure.
As we come towards the end of the interview Ilhan says that he feels good, feels strong , but he says, to be honest the physical symptoms have started. He feels pain in my muscles, stomach pains, and weakness and sometimes he can't see very clearly. But he's not afraid to die.
Anything else you want to add?
Val asked what needs to happen as a result of his actions to make him call an end to it. He said it's very simple. If the Turkish State allowed solicitors and Ocalan's family to have regular visits. If the CPT organises a visit to check on his situation. If he can be treated like all other prisoners. Ocalan has a right to see his people, regularly. That's his right. We demand an end to his isolation. If these demands are not fulfilled, we go until the end.