Buldan: The HDP will never be brought to its knees
At a press conference in Ankara, HDP co-chair Pervin Buldan provided information about yesterday's arrests and announced that the HDP would not be brought to its knees.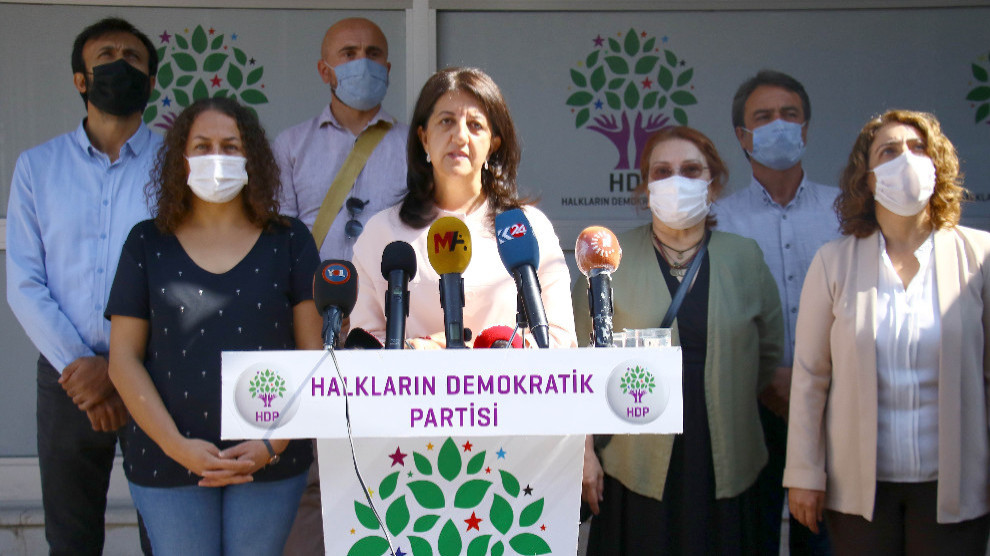 Pervin Buldan, co-chair of the Democratic Party of Peoples (HDP), informed at a press conference at the party headquarters in Ankara about the arrests on Friday. The HDP's Central Executive Council convened for an emergency meeting on Friday evening to discuss the political campaign of annihilation and how to proceed.
Pervin Buldan announced that all those affected were brought to Ankara immediately after their arrest. The party leader described the wave of arrests as a political vendetta and expressed her thanks for all the expressions of solidarity received by the HDP.
"Our former party leaders Selahattin Demirtaş and Figen Yüksekdağ and numerous other members of parliament and mayors have been in prison for four years. Since their arrest, the political extermination operations have continued without interruption. Attempts have been made to undo all the achievements of the Kurds and the HDP. Mayors have been arrested, and trustees have been appointed to municipalities. More operations take place every day. The arrests of regional and local board members of our party are an attempt to keep them away from political work. So yesterday's action is not a new operation, but a continuation of the AKP's political coup attempts," said Pervin Buldan at the press conference.
The intention behind the arrests
A glance at the list of names of those affected shows the intention with which they were arrested, said Buldan ans continued: "All those arrested are colleagues who are fighting for peace, democracy and freedom in this country. Ayhan Bilgen was elected in Kars and has committed no crime other than serving the people there. Sirri Süreyya Önder is a colleague who has personally participated in the peace and negotiation process and contributed to peace in this country. Ayla Akat Ata has only done women's work and the struggle for women is not a crime. Altan Tan was a member of parliament, Emine Ayna was co-chair of the DBP, Nazmi Gür, Ali Ürküt and Beyza Üstün are members of our party, Alp Altınörs is a member of our executive council. They have done nothing but fight for democracy and peace. All those arrested must be released immediately."
Pervin Buldan continued: "In Turkey, the legal system is being trampled underfoot and the arrests are a stab in the back for democracy. The AKP is trying to divert attention from its inability to govern and considers the HDP an easy prey. The government is not able to cope with either the economic crisis or the pandemic. Since its war policy is not working either, it is constantly trying to cover up its own incapacity with a new agenda. In this respect, the most recent operation is not only directed against the HDP, but also against the welfare of the Turkish population."