Call for urgent action for Kobanê
European Democratic Kurdish Society Congress called for urgent action for Kurds and allies in Europe following the Turkish state attacks against Kobanê.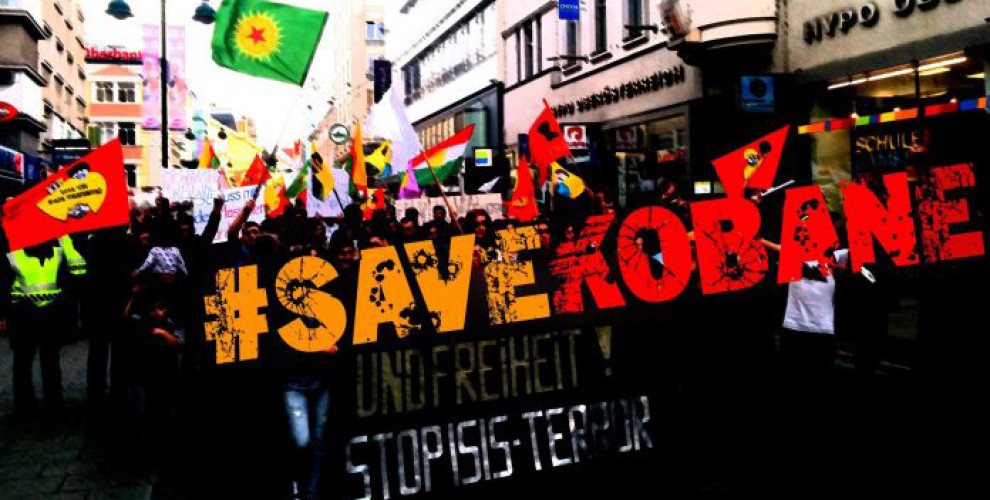 European Democratic Kurdish Society Congress (KCDK-E) Co-presidential Council protested the invading Turkish state attacks against Kobanê's Kor Eli and Selim villages.
KCDK-E issued a written statement and, pointing to the Turkish state attacks coinciding with November 1 World Kobanê Day, called for strong participation to the demonstrations.
KCDK-E said, "Having built their existence over animosity against Kurds, the invading Turkish army has accelerated its barbaric attacks. The invading Turkish army has been bombing Kobanê's Kor Eli and Selim villages with heavy weapons, and they are planning for a massacre and invasion."
KCDK-E mentioned the Turkish state's invasion of Afrin, followed by invasion attacks against Southern Kurdistan with support from the KDP: "And now, they are attempting an invasion against Kobanê, the great gain by our struggle for freedom, and its villages."
The statement continued: "The Turkish army rabidly attacking the greatest gains of the Rojava revolution and the Middle Eastern peoples, and all their collaborators, are aiming to destroy Kurdish people's gains through attacks. We are calling on our people to be conscious against these rabid barbarians who aim to destroy the Kurdish freedom struggle on Kurdish lands and the Rojava revolution, the new hope for humanity.
The Rojava Revolution gifted to the world on July 9, 2012 from Kobanê has achieved victory through blood of the martyrs. It was a revolt against the nation-state and its hegemony everywhere."
KCDK-E pointed to Turkish dictator Recep Tayyip Erdogan's threats of invasion, mentioning Erdogan's 2014 quote, "Kobanê has almost fallen".
"Our peoples have responded to Erdogan by liberating Kobanê," said KCDK-E and added: "Kobanê didn't fall then, but the ISIS invaded Til Hamis, Til Beraq, Shedadê, Hol, Ayn Îsa, Girê Spî, Sirrin, Tishrîn, Manbij, Tabqa and Raqqa did."
The statement continued: "Erdogan, hellbent to carry out a Kurdish genocide, and the fascist Turkish state are looking for revenge through attacking our gains. Our patriotic people in Europe, and all who are revolutionaries, democrats, intellectuals and opponents of fascism should be aware of the danger that awaits the Rojava Revolution and Kobanê, and rise up with the historic tradition of resistance in Kobanê.
All should take on urgent action to defend and support these lands that have been soaked with the blood of women, young people, children and hundreds of internationalists. Every place should turn into a grounds for protests, and the whole world must be shown the barbaric and genocidal face of dictator Erdogan and the invading Turkish army.
As the KCDK-E, we are calling on our patriotic people, and every revolutionary, democrat, intellectual, anti-fascist and internationalist to participate in the demonstrations for World Kobanê Day and to strongly embrace the city."