Court in Ankara sends 17 HDP members to prison
20 members of the HDP were referred to court 9 days after their detention.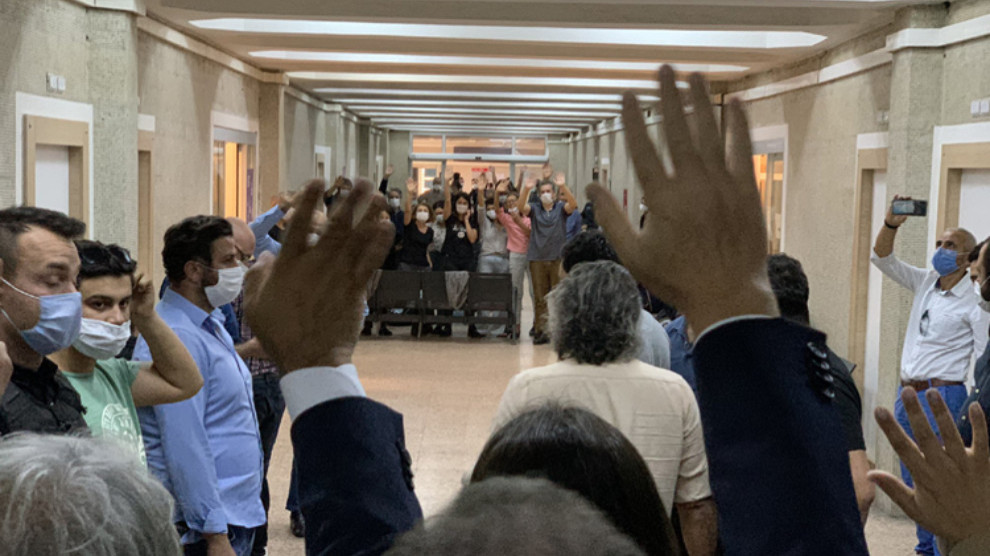 Twenty politicians, including former central executive members and deputies of the Peoples' Democratic Party (HDP), who were detained on the pretext of "Kobanê investigation", were taken to Ankara Courthouse on Thursday, 9 days after being detained.
While Sırrı Süreyya Önder, Gülfer Akkaya and Altan Tan, who were referred to the court with a request for arrest after the statements to the prosecutor, were released on condition of judicial control, 17 HDP members were remanded in custody.
The names of the politicians who were remanded in custody are as follows: HDP Kars Municipality co-chair Ayhan Bilgen, HDP parti council member Alp Altınörs, HDP Foreign Relations Commission member Nazmi Gür, former deputy Ayla Akat Ata, BDP former co-chair Emine Ayna, HDP former central executive members Bircan Yorulmaz, Berfin Özgü Köse, Dilek Yağ, Can Memiş, Günay Kubilay, Bülent Parmaksız, Pervin Oduncu, Ismail Şengün and Cihan Erdal, former HDP General Treasurer Zeki Çelik, HDP RTÜK member Ali Ürküt and former deputy Prof. Dr. Emine Beyza Üstün.
Lawyers read the judge's verdict before entering the courtroom. Lawyers and members of parliament in the courthouse reacted to this situation by shouting slogans "Defense will not be silent", "HDP will not be silent".
Lawyers were not allowed in the hall and the decision was read to politicians. It drew attention that the reason for the "suspicion of fleeing" was given as reason for confirming the detention.
After the announcement of the decision, the lawyers wanted to deliver the belongings to their clients. However, the police, who set up barricades in the courthouse corridor, physically attacked the lawyers. Thereupon, the deputies wanted to cross the police barricade and reach the politicians who were taken hostage. The police also used physical violence against members of parliament.