Day 13 of the resistance in Amed
The demonstration launched in Amed to reclaim the usurped municipality continues since August 19.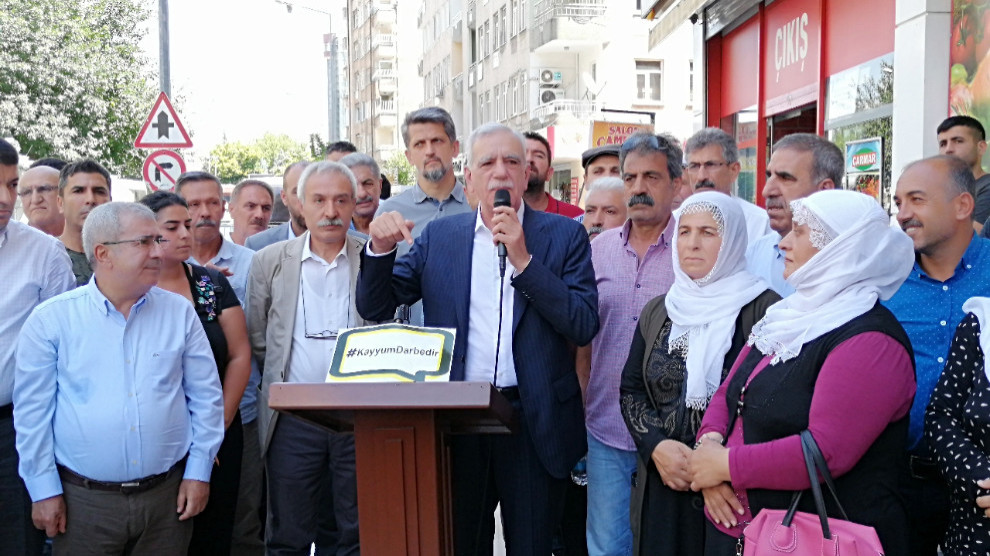 On August 19 the AKP regime seized the metropolitan municipalities of Amed, Van and Mardin by removing the democratically elected co-mayors and appointing trustees in their place.
In tandem with the operation against three municipalities, over 400 people were taken into custody as a result of house raids in dozens of cities. As protest demonstrations continue in three cities since August 19, police forces are systematically attacking the protesters, deputies and residents, and obstructing the journalists.
The sit-in action launched in Amed to reclaim the municipality continues on day 13. Gathering on the Lise Avenue leading to the municipality building, the crowd chanted "Amed is ours", "We will resist to victory" and "Shoulder to shoulder against trustees".
The sit-in action is joined by HDP deputies Ayşe Acar Başaran, Remziye Tosun, Saliha Aydeniz, Feleknas Uca, Dersim Dağ, Semra Güzel, Ahmet Şık, Hişyar Özsoy, Peace Mothers, Free Women's Movement (TJA), Amed Co-mayor Selçuk Mızraklı and Mardin Co-mayor Ahmet Türk.
The sit-in action will be followed by a press statement at 13:00.