Day 22 of resistance for municipalities of Amed, Van and Mardin
Protests continue since their seizure of HDP-run Amed, Van and Mardin municipalities on August 19.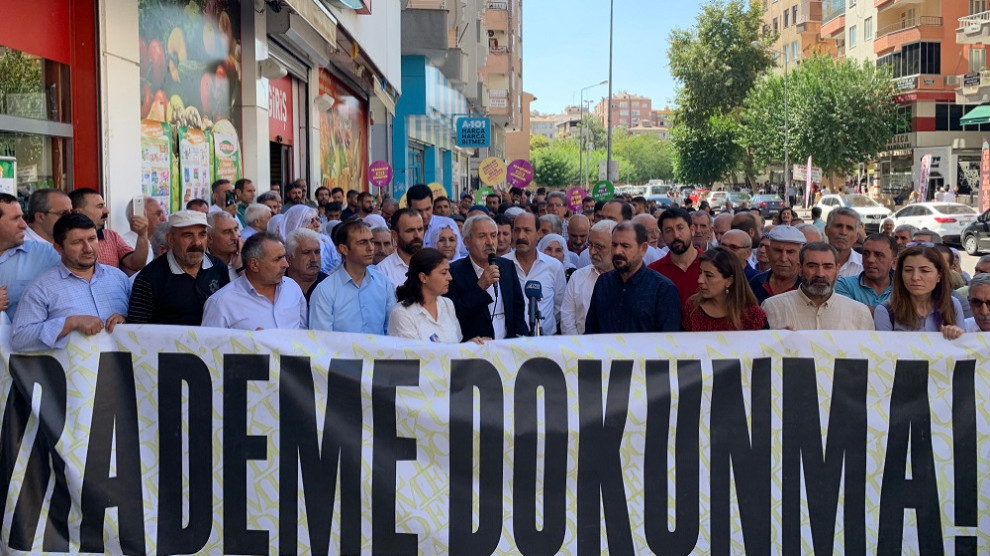 People of Amed, Van and Mardin cities continue with their protests against the seizure of their municipalities by the AKP regime.
AMED
The sit-in action staged on Lise Avenue continued on its 22nd day in Amed (Diyarbakır) where the HDP-run metropolitan municipality was seized by the AKP regime, alongside the metropolitan municipalities of Van and Mardin).
Today's action which began with the slogan "shoulder to shoulder against the thief" was joined by HDP Amed MPs Musa Farisoğulları, Semra Güzel, Remziye Tosun, HDP Group Deputy Chair Saruhan Oluç, Iğdır MP Habip Eksik, İstanbul MP Züleyha Gülüm, Muş MP Mansur Işık, Şırnak MP Nuran İmir, co-mayors of Sur and Silvan municipalities, HDP administrators and members, TJA (Free Women's Movement) activists, Peace Mothers and many people.
Speaking at the press conference, Selçuk Mızraklı, the dismissed co-mayor of Amed, stated that this was not just a political decision but also a coup that targets their honor. On the occasion of his death anniversary, Mızraklı remembered Kurdish artist Yılmaz Güney citing his words "We will win, we will definitively win".
HDP Deputy Chair Saruhan Oluç pointed out that appointed trustees had no legitimacy in democratic politics as the whole world, and the peoples of Turkey have seen the fact that this government has nothing to do with justice and democracy.
Oluç remarked that Turkish authorities were now making new plans to push the trustee issue into the background; "There are new perception operations. They are committing grave crimes; they are exploiting the sorrow and feelings of mothers. We understand the best the pain of the mothers who are kept waiting outside the HDP headquarters here. We understand their pain like we have understood the pains of mothers with White headscarves and the pains of Saturday Mothers for years. On the contrary, those who take no step for peace, who ignore the Dolmabahçe Agreement, who totally eliminated access to Imralı for two and a half years and say that 'there is no Kurdish question', cannot understand the pain of those mothers. They just exploit the sorrow of the mothers."

Oluç called upon all the parties in the Turkish Parliament; "Lets's establish a commission for a democratic solution to the Kurdish question. Let's take a step for peace and solution. Should any of the parties refuse to take part in this comission, it should be known that those don't want peace."
The press statement was followed by a sit-in action.
VAN
The Vigil for Democracy held in front of İpekyolu District Municipality continued in Van city for the 22nd day.
Speaking during today's protest, HDP İzmir MP Murat Çepni stated that they did not recognise the trustee and would keep their struggle going until elected co-mayors return to office.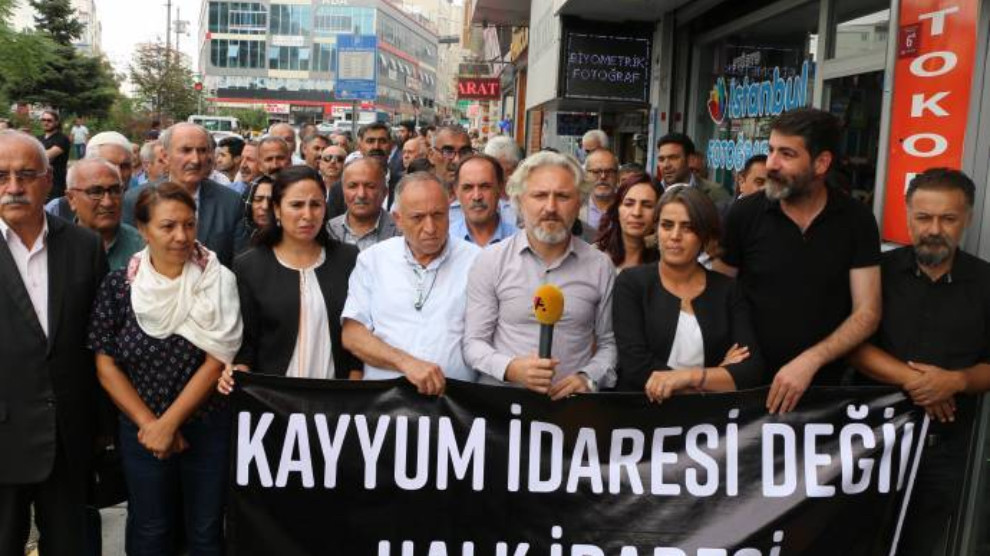 Pointing to brutal crackdown by the security forces of the State against the people who reclaim their will, Çepni said the following; "We are faced with lie on one hand, and violence on the other hand. The government, which feeds on lie, violence and exploitation, has staged a political coup agains the will of the people. They are in a war against the working class, the laborers, natural habitat and ecologists. This is a governemnt of conflict. Those who have suffered a defeat in elections are trying to overcome the crisis through conflict."
Speaking after, HDP Van MP Murat Sarısaç spoke as follows; "We will be resisting like we have been doing for 22 days. We will announce their theft, seizure of people's will and ignorance of a folk to the whole world. This cannot be stopped. We will remain on the streets until all their unlawful and illegal practices and unjustness are exposed. It is legitimate to resist against the trustee, and against the State that imposes this unlawfulness. Nobody should hesitate to defend their legitimate rights. Our struggle will continue until freedom comes and fascism, enemy of freedom, goes away."