Demirtaş salutes Leyla Güven, condemns the isolation of Öcalan
The hearing of political captive Selahattin Demirtaş has started. Demirtaş condemned the isolation regime on Imralı and saluted Leyla Güven.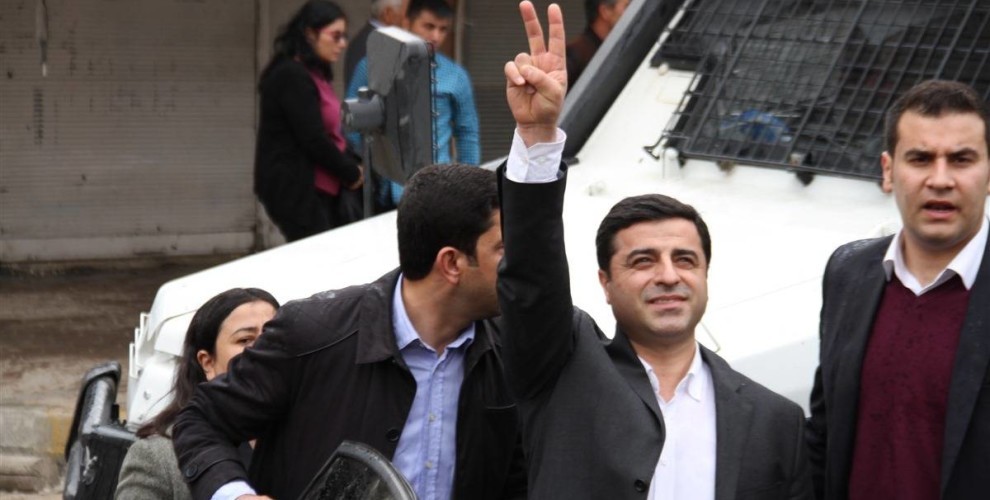 Hearing in the case against HDP former co-chair Selahattin Demirtaş has begun in a hall at Sincan Prison Compound on Wednesday.  
The hearing is held at the 19th Heavy Penal Court of Ankara and handles a total of 31 summaries of proceedings that were prepared against Demirtaş and submitted to the Parliament for the abolishment of his immunity.
Following the instruction that only 45 people would be allowed into the courtroom, police obstructed international delegations and a number of people who wanted to monitor the hearing. Reporters without yellow press card were not allowed to use their laptop computers.
Demirtaş started his verbal defence in Kurdish to highlight the importance of mother tongue. He firstly saluted HDP MP and DTK co-chair Leyla Güven who is on the 35th day of her hunger strike demanding an end to the aggravated isolation regime imposed on Kurdish People's Leader Abdullah Öcalan. Demirtaş also said he condemned the isolation of the Kurdish leader.
Demirtaş said; "As the court board, you should retreat as you will not manage to handle the hearing impartially and independently. On the contrary case, we will demand recusation."
The Kurdish politician continued; "You have jailed me on the basis of tweets posted by a fake Twitter account. In addition, these evidences were created by some people who are accused of being members of the community (referring to the FETO organiazation). You have imprisoned me on this basis."
More details will follow as the hearing continues.