Demonstrations in the US for Kobane and Rojava
Demonstrations against Turkish aggression in Rojava were held in Los Angeles, California and Washington, DC over the past several days.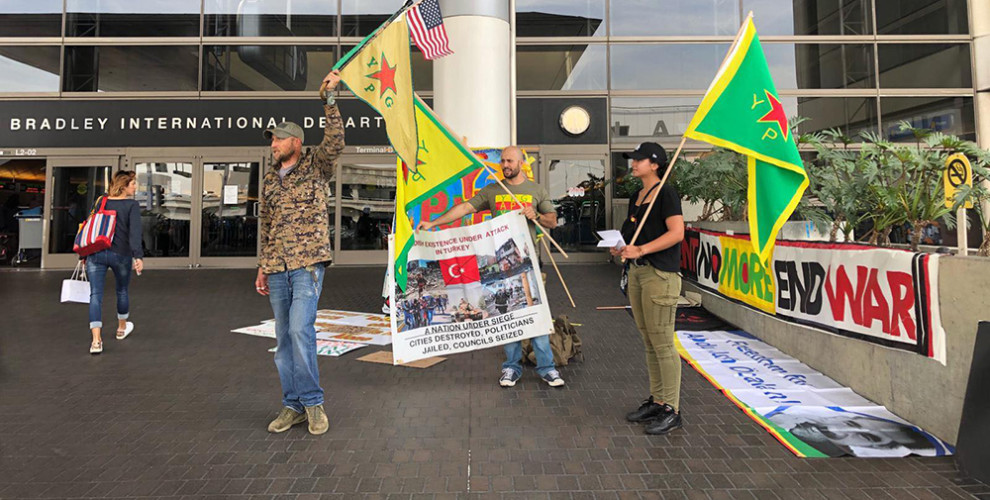 On Sunday, demonstrators called attention to the recent Turkish attacks on Kobane and Tal Abyad (Gire Spi) at the Turkish Airlines booth at Los Angeles International Airport. They handed out materials describing Turkey's war on Kurdistan, and asked all people to refuse to fund Erdogan's war machine by traveling to Turkey or purchasing Turkish goods and services.
An organizer of the Los Angeles demonstration said that he protested because he wanted to raise awareness of what America's supposed 'ally' was truly doing. "Erdogan's attacks on innocent civilians in Rojava/Northern Syria are unacceptable, and we demand that the US government finally give a hard stance against Erdogan and his fighters of ISIS, al-Qaeda,  al-Nusra, and [the] so-called FSA," he said.
On Monday, Kurdish activists and their supporters held a demonstration at the U.S. Department of State in Washington, DC, condemning the attacks and calling on the U.S. government to act. Demonstrators held pictures of Sara Mustafa, the young girl killed by the Turkish army on November 1st, and warned U.S. officials that if Turkey were allowed to attack Kobane and Tal Abyad, they would commit war crimes similar to those seen in Afrin.
Syrian Democratic Council (MSD) representatives to the United States Sinam Mohamed and Bassam Ishak attended the demonstration in Washington.
"We are protesting here to condemn the Turkish bombing of our region. We ask the US to stop Turkey from bombing the SDF, which had a great role in defeating terrorism in Syria. It is time to build peace and stability in our region, not to create conflict. It is time for a political solution," Mohamed explained.
"Turkey is deepening the crisis in Syria, with the help of Russia. We are the allies of US in the fight against ISIS, the US should protect the SDF and our people," she continued.