"Equal opportunities must be guaranteed for the HDP in elections"
Three Swedish politicians stressed the need for Turkey to ensure equal opportunities and rights to the HDP and opposition parties in local elections scheduled for 31 March.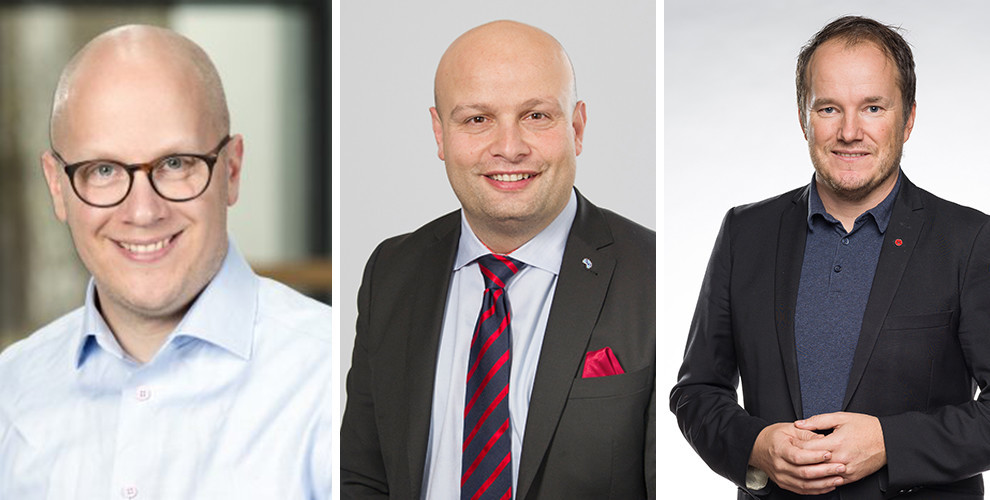 Sweden's Social Democratic Labor Party and Örebro mayor Kenneth Nilsson, Uppsala Municipality Branch executive and Left Party Councillor Tobias Smedberg and Uppsala Municipality Branch executive and Liberal Party Group Chairman Mohamed Hassan talked to ANF about the developments in Turkey and Kurdistan before the 31 March local elections.
"Equal conditions must be guaranteed"
Kenneth Nilsson said that all the necessary conditions of equal recognition of the political work in Kurdistan and Turkey needed to be guaranteed.
Commenting on the repression and arrests of HDP members, Nilsson said clearly these are an obstacle to the realization of democracy. "The international community has an obligation to respond to the arrest of HDP members and executives and to demand that all politicians are able to carry out election work on equal terms."
Nilsson emphasized that Sweden and the European Union should demand equal opportunities for all politicians from a country [Turkey], which sees itself as democratic and as part of the international community. "If it does not give equal opportunities to all parties participating in the election, democratic elections cannot be mentioned. In a democratic country, politicians are not punished for explaining their views."
Nilsson added: "For me, as a municipal administrator, it is important to strengthen relations with Kurdish municipal administrators."
Concern about HDP arrests
Tobias Smedberg said he is closely following developments in Turkey and Kurdistan and added that equal and fair conditions have to be guaranteed in the 31 March local elections.
Stressing that they are concerned about the repression and arrests targeting the HDP, Smedberg said: "In a democratic country, all parties should be given equal opportunities. But everyone knows that this is not the case in Turkey. Raids are carried out on the HDP premises. Members and executives of the party are taken into custody. HDP election work faces huge obstruction and the public are prevented from listening to what the HDP has to say."
Smedberg added: "Kurdish mayors are being held in prisons. We campaigned here for their release. In order for voters to be able to make a fair choice, first of all, municipal administrators and HDP people should be released."
The Swedish politician continued: "We, the Left Party, have raised on many occasions the human rights violations that take place in Turkey and we will continue to do so. In Sweden and in many places around the world there is huge solidarity with human rights defenders and with the HDP executives and members."
"Erdoğan has become a dictator"
Mohamed Hassan remarked that Recep Tayyip Erdoğan has led Turkey away from democracy and towards a dictatorship, accusing all the opposition of terrorist crimes in order to consolidate its power.
Noting that Erdoğan intensified attacks and arrests against the HDP's leaders and members because he knew that the HDP would win in the elections, Hassan said: "That's why he accuses the HDP and opposition parties of being terrorists."
Hassan said that the European Union and member governments should demand the release of all political prisoners, including Kurdish People's Leader Abdullah Öcalan, in order to ensure that the elections take place on a fair and equal basis.
Hassan said: "Erdoğan is acting illegally, interfering in the elections as President. He accuses the HDP and the opposition of being terrorists with no evidence. I met all the democratic forces in Turkey and I trust that they will overthrow Erdoğan in a democratic manner without using violence. I am most concerned about the fact that Erdoğan is trying to impose the Muslim Brotherhood ideology on the country."
The Kurdish problem, said Hassan, "cannot be solved by war and conflict as these only increase the polarization in the country. The only person who could pave the way to peace in Turkey is Abdullah Öcalan. The demand of the prisoners on hunger strike points to this. Öcalan is the leader of a people. Therefore to lift isolation is not enough. He must be released."