Erdoğan to be welcomed with protests in Berlin on Sunday
On Sunday Turkish President Erdoğan will come to Berlin for the Libya summit. Berlin Action Committee and the coordination of the international campaign #RiseUp4Rojava call for protests to welcome him.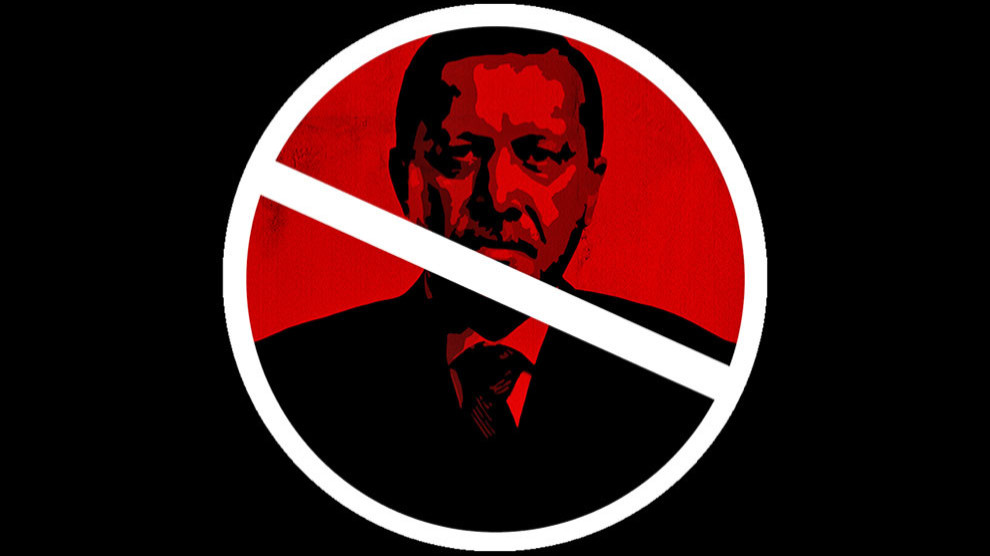 Having been postponed several times, the international conference over the Libyan crisis will eventually be held in Berlin on Sunday, 19 January. Sponsored by Germany, the conference will be attended by commander Khalifa Haftar and the leader of the UN-backed government, Fayez al-Sarraj.
Haftar and al-Sarraj are to be joined by envoys from the US, Russia, China, the UK, France, Italy, the European Union and the United Nations. German Chancellor Angela Merkel also extended an invitation to the African Union, the Arab League, the Republic of Congo, Algeria, Egypt, the United Arab Emirates and Turkey. The German government said they are expecting top-level officials, such as prime ministers and heads of state.      
Berlin Action Committee calls for a massive protest at 10 o'clock on Sunday against Turkish President Recep Tayyip Erdoğan in front of the Federal Chancellery in Berlin: "We want to welcome him in the manner befitting a war criminal: With protest on the streets! Raise your voices against the crimes of the Turkish army and its jihadist partners in Rojava, Turkey and Northern Kurdistan, in Southern Kurdistan and now also in Libya!"
"Dictator with great power ambitions"
The call of the campaign #RiseUp4Rojava says the following:
"The Turkish fascist and president Erdoğan will come to Berlin again. On 19 January 2020 Erdoğan is expected in Berlin to participate in the so-called "Berlin Process". At this meeting the current crisis in Libya will be discussed under the leadership of some states. Consultation means nothing else than the imperialist states trying to secure their respective interests.
Erdoğan has already sent members of his jihadist mercenaries to Libya in the past few days. The very mercenaries who have been killing, raping and looting in Rojava since 2018. The Turkish army, on the other hand, is set to concentrate in Libya on merely building up infrastructure and "advice" so that Turkish soldiers are not involved in direct combat operations. The war against Rojava, against South Kurdistan, the dictatorship in Turkey and the oppression of people in Northern Kurdistan are only a part of a bigger idea. Because also in Libya we can see what Erdoğan is really about: achievement of the spheres of influence of the former Ottoman Empire.
We do not accept that this dictator will be courted in Berlin. We oppose Turkish fascism and its great power ambitions. But we also oppose the cronyism of the German state and the German imperialism, which is also responsible for suffering, misery and oppression worldwide.
This summit is a renewed attempt of the German state to establish itself internationally as a shaping power. The global strategy of Germany today thinks the both ways of economic and military intervention increasingly together. Let us thwart this strategy together. Watch out for announcements. All together against fascism!"