Farewell to Fevzi Özmen
Hundreds of people bid farewell to Fevzi Özmen at a funeral service in Hagen. The Kurdish linguist, teacher and author who died in Germany was buried in his hometown, Erzurum, today.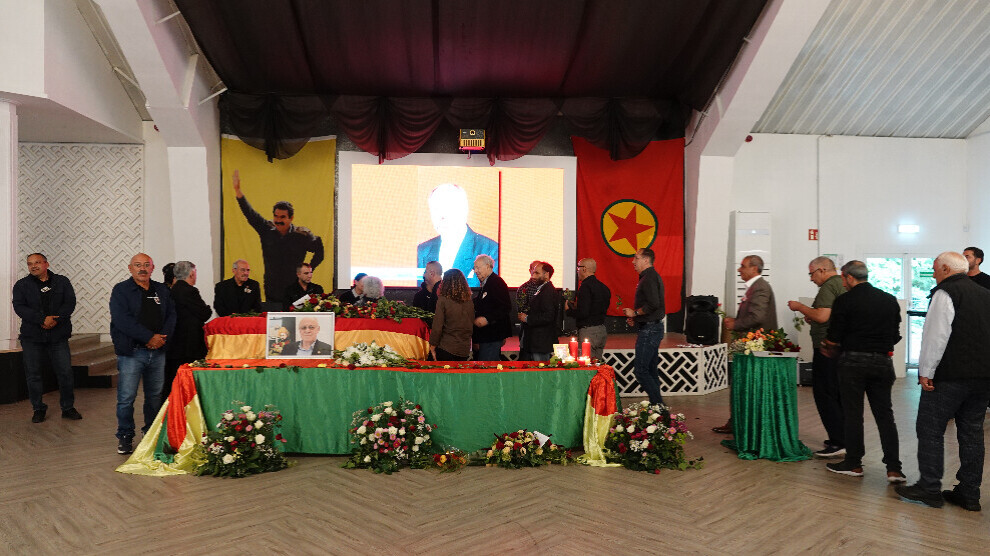 A funeral service was held in Hagen for the Kurdish linguist, teacher and author Fevzi Özmen, who died while receiving treatment in a German hospital on 17 September. Hundreds of people took part in the funeral service, including representatives of Kurdish organisations and institutions, the Green Left Party MP George Aslan from Mardin, HDP politicians in exile and many of Fevzi Özmen's students.
The coffin with Fevzi Özmen's body, wrapped in a green-red-yellow cloth, was carried into the hall by his companions and laid out. Hafız Ahmet Turhallı, the chairperson of the Kurdish Islamic Community (CÎK), said a prayer. Afterwards, a film of Fevzi Özmen's life and work was shown.

Özmen's son Dilşer Özmen and his relative Harun Sever expressed their gratitude for the sympathy. Heval Zekî from the KOMAW association, in which relatives of martyrs and missing from Kurdistan are organised, paid tribute to "Mamoste Fevzi" (Teacher Fevzi) as a modest person who left behind great works: "His passionate aspirations for freedom were inexhaustible. He was loyal to his country and the struggle."
Ahmet Aktaş of the Kurdistan National Congress (KNK) said in a speech that Özmen had dedicated his entire life to the Kurdish freedom struggle and had achieved a great feat with his work in the fields of culture and language against the threat of assimilation.
On behalf of the Kurdish Women's Movement in Europe (TJK-E), Avesta Aydın stated that the women-led "Jin, Jiyan, Azadî" (Woman, Life, Freedom) revolution in Rojhilat (Eastern Kurdistan) had also brought about a change in thinking among intellectuals and artists: "But Mamoste Fevzi believed in the women's struggle for many years and was committed to it. All the women who came to the institute were trained by him. He never withdrew."
Other speeches were made by Engin Sever (KCDK-E), Ruken Emine Akça (KON-MED) and Fergin Melik Aykoç (Association of Kurdish Teachers, YMK). Green Left Party MP George Aslan expressed his condolences to the Özmen family, the people of Kurdistan and especially the intellectuals, writers and politicians, saying: "I worked with Mamoste Fevzi for many years. He was a hardworking, sincere and humble person who impressed everyone with his knowledge and views."
Özmen's body was then transferred to the Erzurum province in Northern Kurdistan and laid to rest in the village of Şorax in the Çat district.
The funeral ceremony was attended by a large number of people, including the Green Left Party MP for Erzurum, Meral Danış Beştaş, and members of the Peoples' Democratic Party (HDP), Democratic Regions Party (DBP) and Green Left Party.