Fascist mob attacks three Kurdish students at Law University in Ankara
A right-wing extremist mob of around 30 people attacked three Kurdish students with knives and machetes at the law faculty of Ankara University.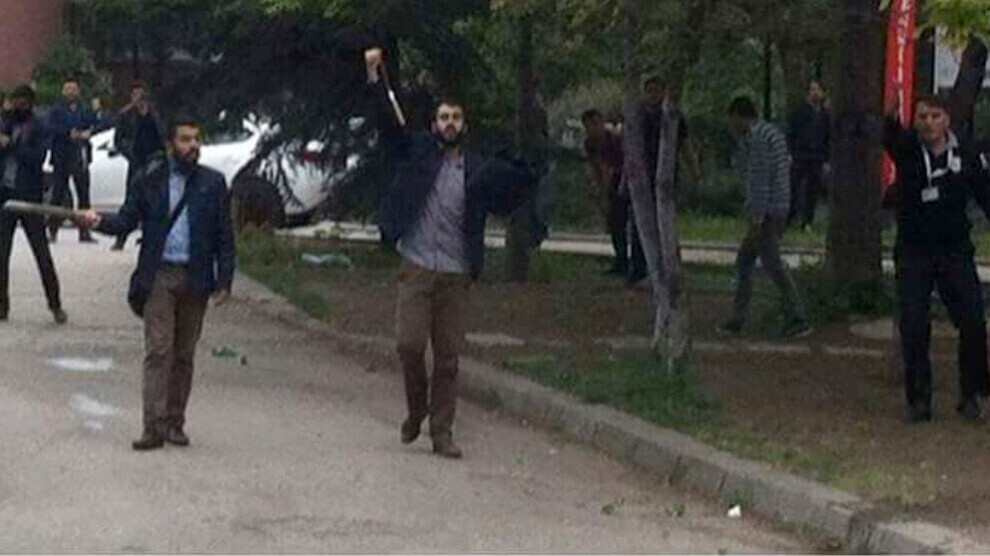 On Sunday there was a serious fascist attack against Kurdish students. A group of around 30 people, including well known fascist Isa Kök, attacked three Kurdish students with machetes and knives.
Two of the Kurdish students were slightly injured and another was seriously injured by stabs in the leg. M.U., one of the attacked students, said that they were approached by the notorious right-wing extremists Isa Kök and Fatih Temel: "What are you looking at?" they were asked and then the group attacked them. The students fled, but Isa Kök and Fatih Temel caught up with them and Kök stabbed K.Y. in his left thigh. The students managed to stop a police vehicle. M.U. said: "There came a mob of 20-25 people. They attacked us. We stopped a police car and we were taken to the hospital. Another mob attacked us right in front of the police station."
"The attackers knew that we were Kurds"
The students' lawyer said that the incident was a unilateral attack. "It is obvious that the attack took place because of their identity. A group of 30 people was called by phone, even though my clients had quietly gone. This group attacked the students twice, once directly in front of the police headquarters."
Who is Isa Kök?
Isa Kök had previously attacked two students with a machete at Ankara University Faculty of Law. However, Kök was not punished at the trial. It was requested that a lawsuit be filed against the fascist group, including Kök, on charges of "attempting to kill", "preventing education and training", "hate and discrimination", "establishing an organization to commit crimes". However, Ankara Prosecutor's Office evaluated the incident as "a fight between two parties in the school" and filed a lawsuit only for "injury". The trial, on the other hand, sentenced Kök to 1 year, 5 months and 24 days in prison twice, adjourning the sentence by applying "unjust provocation" and "good behaviour" reductions.
It is known that there are other cases in which Kök was tried and sentenced. However, Kök graduated from law school and works as a lawyer.