"Fighting continues, we will continue telling the truth"
Kachin FBR ranger killed, Iraqi coordinator wounded during Turkish-backed Free Syrian Army mortar strike.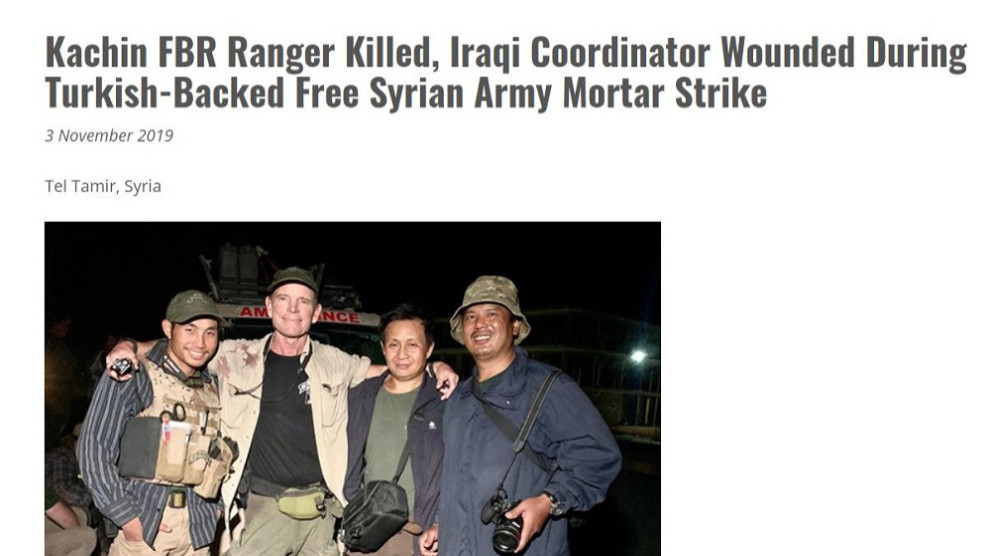 Turkish forces and allied mercenaries struck a vehicle of Free Burma Rangers staff in northern Syria earlier today. The medical team was targeted by an artillery attack in an area between al-Rashidiya and al-Kasimiya villages of Tal Tamir town Sunday afternoon.
Dave Eubank, who is a part of the team targeted in today's apparently deliberate attack, wrote the following:
"We are very sad to announce that Zau Seng, our Kachin cameraman and medic from Burma, was killed today, Nov. 3., by a Free Syrian Army/Turkish Army mortar strike that hit our forward casualty collection point where we were assembled to treat the wounded.
Last night, Nov. 2, we had rescued three people from this area successfully but this time we were hit very close, about 10 meters from us. Mohammed, our Iraqi translator and coordinator, was also wounded but is in stable condition in the hospital.
This attack happened in the area that the Turks have invaded, about four kilometers north of Tel Tamir. The fighting continues and so we will continue providing medical care and telling the truth about what is happening here. We will do our best to take care of Zau's family and will continue to take care of Mohammed."
Full article can be read at: