First Friday prayer in Hagia Sophia
In Hagia Sophia a Muslim prayer was held for the first time in 86 years. As the leader of Diyanet, Ali Erbaş delivered the Friday sermon with a sword in his hand, publicist and theologian Ihsan Eliaçık drew comparisons to the ISIS.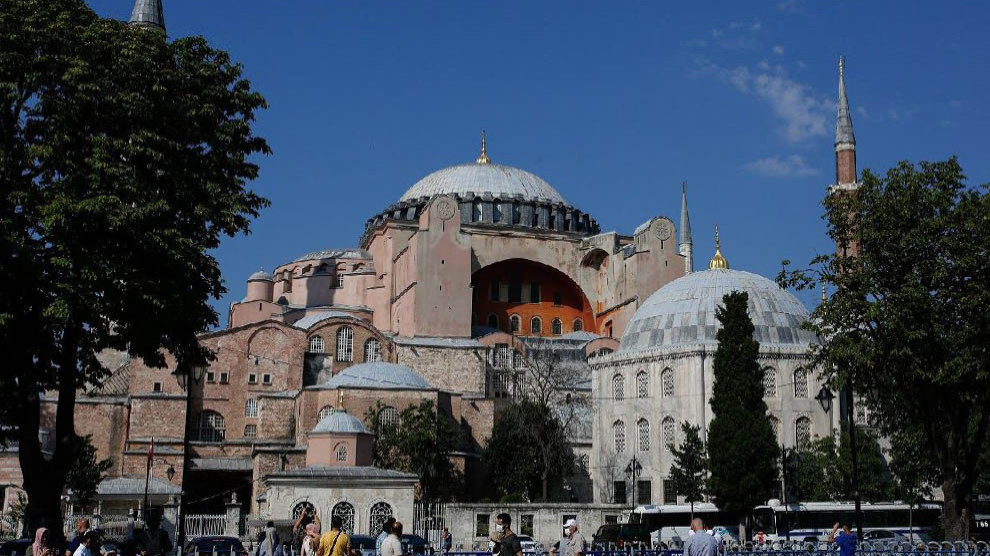 After the conversion of Hagia Sophia in Istanbul into a mosque, the first Muslim Friday prayer took place today. The official reopening was also attended by Turkish President Recep Tayyip Erdoğan in the presence of several hundred people. In the forecourt, thousands gathered outside to follow the prayer and responded with "Allahu Akbar" shouts. The frescoes and mosaics from the Christian Byzantine period were covered during the prayer.
For almost 1,000 years, Hagia Sophia was the main church of the Byzantine Empire. In 1453 the Ottoman conquerors of Constantinople turned it into a mosque. The founder of the Turkish Republic, Mustafa Kemal "Atatürk", declared the building a museum in 1934. Two weeks ago the Supreme Administrative Court of Turkey annulled the status of the Hagia Sophia as a museum. Erdoğan then ordered its use as a mosque.
Even before the actual prayer began Erdoğan sat in the Hagia Sophia and listened to the sermon of his highest cleric and head of the state religion authority Diyanet, Ali Erbaş. He appeared in a martial manner with a "sword of conquest". Publicist and theologian Ihsan Eliaçık, first advocate of an "Islamic socialism" in Turkey, who is considered the ideological father of anti-capitalist Muslims, drew comparisons to Salafist Islamism: "The sword has nothing to do with Islam. The leader of the ISIS gave a Friday sermon with the sword in his hand," said Eliaçık.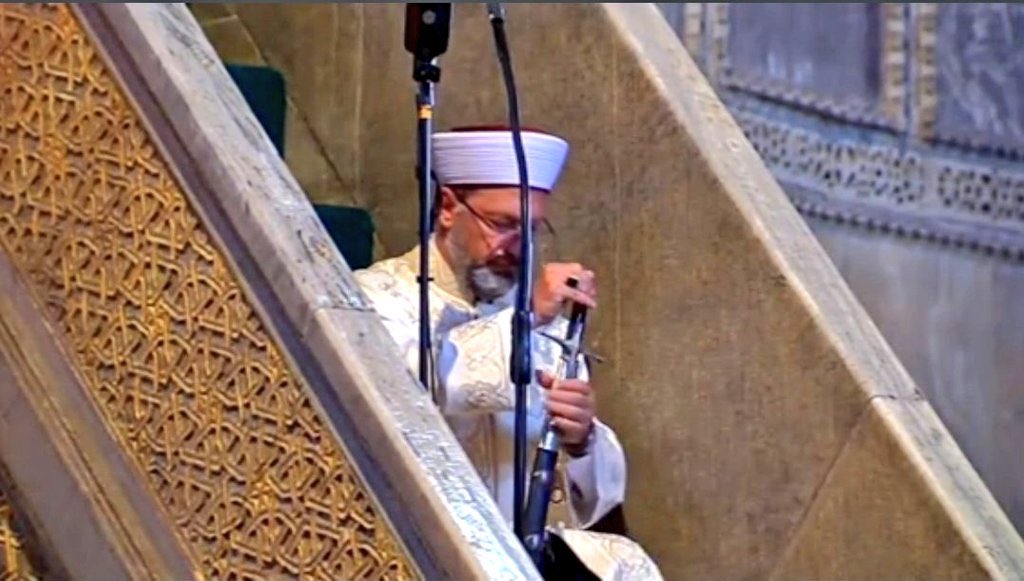 Ali Erbaş at the Friday sermon in Hagia Sofia
The rededication of Hagia Sophia, built in the 6th century AD, as a mosque triggered international protests. The move was widely criticised as a burden on the dialogue between cultures and as proof that Turkey was moving further away from Europe.