Former MPs in long march call for resistance against isolation
Former HDP MPs who are participating in the long march from Basel to Strasbourg expressed their support for the hunger strike campaign and called for increased resistance.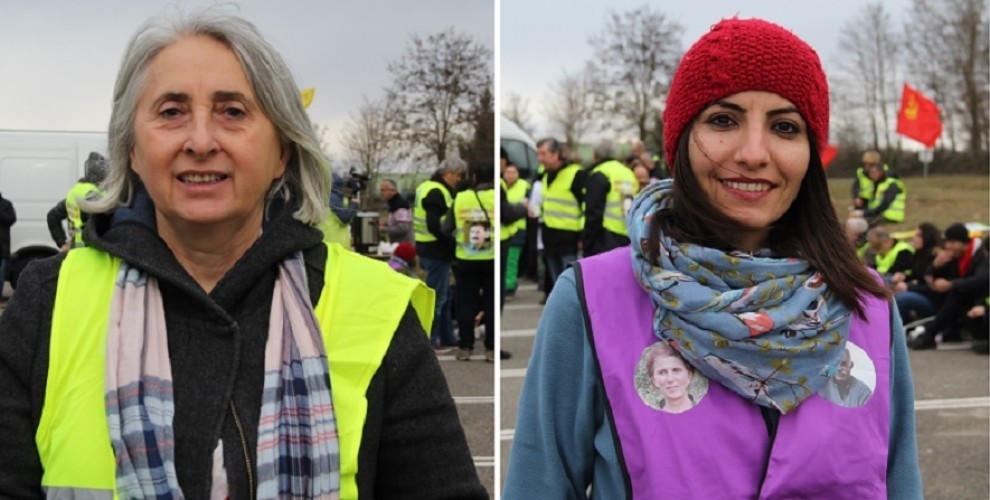 As part of Europe-wide protests against February 15 international conspiracy against Kurdish People's Leader Abdullah Ocalan, Kurds are staging long marches to mark the 20th anniversary of the conspiracy. Kurds and their friends participating in the actions also express support the hunger strike campaign in Kurdistan and abroad.
The long march from Basel to Strasbourg is also joined by former MPs from the Peoples' Democratic Party (HDP), Tuğba Hezer and Nursel Aydoğan. Hezer and Aydoğan spoke to ANF.
Hezer: If we break the isolation, the conspiracy will be defeated
"The resistance ongoing in several centers today and the long marches in the heart of Europe have manifested once again that the international conspiracy has not achieved its objectives. This year's actions do not only aim to break the isolation on Öcalan but also to give voice to our friends resisting in hunger strike action."
Hezer stated that the isolation was an extension of the international conspiracy and continued: "After the failure of the conspiracy, they are trying to accomplish their goals through the aggravated isolation today. Yet there is a resistance against the isolation. A resistance which is accelerating every day. The hunger strikers' bodies are melting away. We do not want to see our comrades lose their lives in order to break the isolation. Through our resistance, we will be able to strengthen their action and end the isolation. Therefore we have to rise up no matter where we are. If the isolation is removed, the conspiracy will completely fail. Our friends on hunger strike are in a critical situation, it is the time to step up the resistance."
Aydoğan: We believe in freedom
Former HDP MP for Amed, Nursel Aydoğan highlighted Abdullah Ocalan's importance to the peoples in Turkey and the Middle East and said: "What has enabled these people to come together in this cold weather, is the confidence and belief in Ocalan's freedom. People in Kurdistan and the Middle East know very well that Mr. Ocalan is needed to resolve the Kurdish question and to achieve democracy in Turkey. The resistance against Ocalan's isolation is continuing nonstop everywhere. As long as Ocalan is not freed, there will be no solution for the Kurdish question and democracy in Turkey. Therefore our actions will continue until Ocalan is freed."
'The isolation could be broken through resistance'
Aydoğan stated that another purpose of the march was to support the Kurdish hunger strikers, and added: "We are giving voice to the demands of Leyla Guven and other hunger strikers in Kurdistan and abroad. Everyone should know that these people are on hunger strike for all of us. We should embrace and step up their action. Through the resistance of our comrades inside prisons, and our actions outside, we can break the isolation on Ocalan."