Fourth day of the Long March to end in Dusseldorf this evening
The long march started in Bonn, led by the Kurdish youth. On Wednesday night, the third day, it reached Leverkusen. Today the youth are heading to Dusseldorf.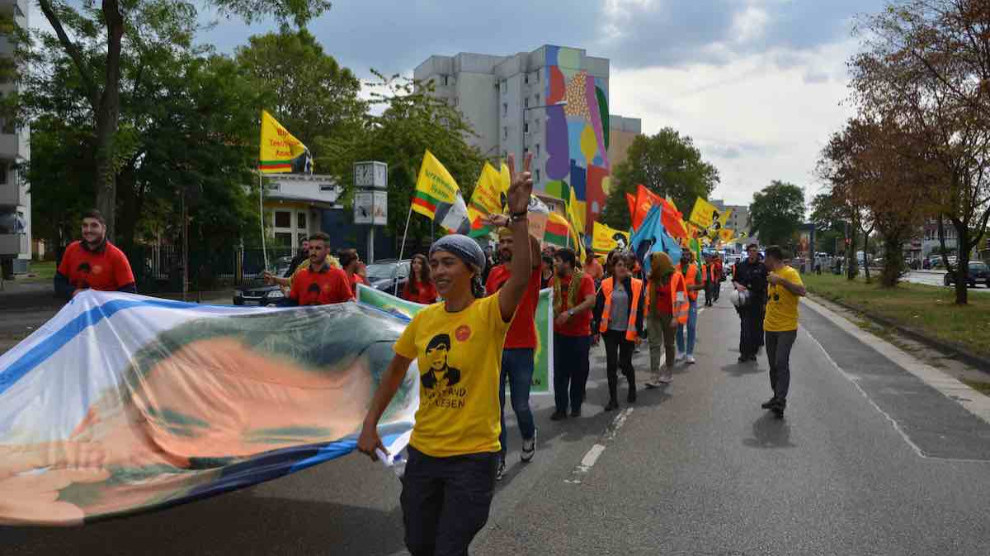 The long march is attended by dozens of Kurdish and internationalist youth and began on 9 September.
On the third day of the march, the young people stop in front of the station in Cologne, to handover leaflets on the meaning of the march.
"March with the Leadership, Destroy Fascism!" was the slogan used by young people who had been faced with police harassment during the first three days of the action. 
Police detained some participants who were then released.
Young people were also often met, in the first three days of action, with racism coming from right wing circles. 
Freedom for Kurdish People's Leader Abdullah Öcalan
Lorîn, who has joined the march from Duisburg, said: "I support this march and its demand to free the leadership. I have participated in previous years. I urge all young people to resist until we achieve the physical freedom of our leader."
Zeki, who came from Switzerland, said: "When I heard that a long march would be held for the freedom of our leadership, I received permission from my workplace to participate in the march and I have been in action since 9 September."
He was detained by police on Tuesday following racist provocations. "I am continuing the action from where I left it - he said - Together, the struggle of the youth will defeat fascism and Rêber Apo will be free."
An internationalist youth who joined the march from Germany and introduced himself as Rêdan Mêrdîn said: "As an internationalist youth, I participated in this march for the freedom of the leadership."
Drawing attention to the police attacks, Mêrdîn said: "They banned all the slogans we said. We will continue our march, but we will be careful not to let any provocation happen. I urge all German youth to support this march."
Bedran, who came from the French city of Marseille, stated that the aim of joining the march was demanding freedom for Öcalan.
At the end of the third stage of their march in front of the German Communist Party (DKP) Cultural Center in Leverkusen, the youth held a panel there and enjoyed a concert by artist Hozan Comerd.
The fourth day of the long march will go from Leverkusen to Dusseldorf.