Frankfurt Appeal calls for an end to the Turkish aggression on Rojava
The Frankfurt Appeal for the Stop of the Aggression against Rojava is a call by well-known personalities to intervene in Ankara and at the UN and NATO to stop the Turkish war of aggression and to grant access to humanitarian aid.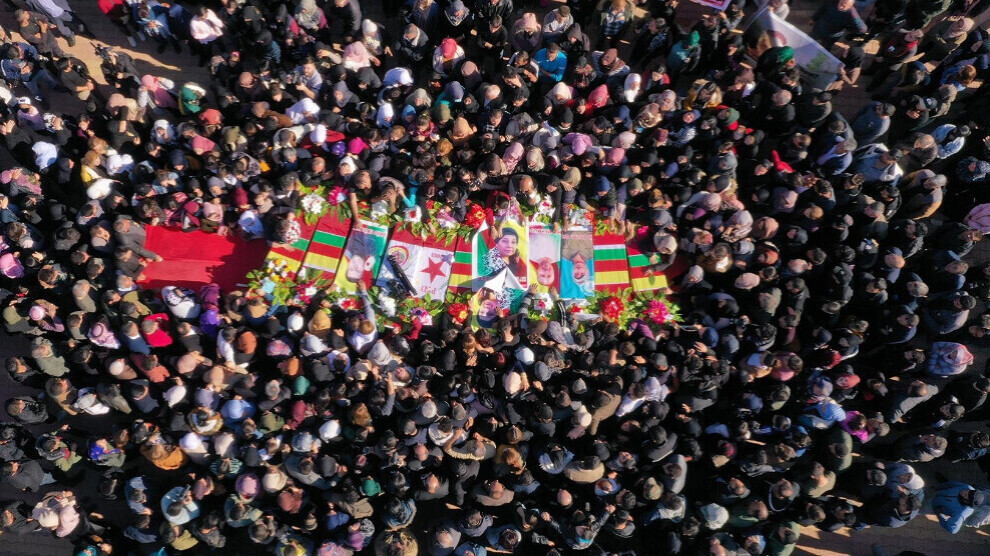 With the "Frankfurt Appeal", the association Städtefreundschaft (Town Friendship) Frankfurt-Kobanê and numerous signatories call on the German government to intervene with Turkey, the United Nations and NATO to end the war of aggression against the Autonomous Areas of North and East Syria (AANES). For the ninth day in a row, the Turkish state is attacking the self-governing region also known as Rojava in neighbouring Syria - in open violation of international law. The Kurdistan region in Iraq is also affected by this aggression, but the so-called West remains silent.
The Frankfurt Appeal calling for international action includes the following:
"The Turkish government has been bombing the Autonomous Region of North and East Syria since November 19 on flimsy grounds and with lies. Warplanes, drones and artillery are used against the areas around the cities of Derik, Qamishlo, Heseke, Deir-ezZor, Minbic and Kobane. Over 300 artillery shells fell in the vicinity of the city of Afrin, which Turkey has illegally occupied since 2018. Without the acquiescence of Russia, the USA and Germany, Turkey could not carry out its attacks. Critical infrastructure is targeted - airstrikes and artillery fire on schools, clinics, grain elevators, gas stations and oil fields. This is a war against humanity. "Mentally, people can no longer endure the permanent threat situation. You can no longer live in constant fear. A normal life has long been impossible. Enduring is no longer possible. They say this will be the last war," reports Emine G., who is currently in Northern and Eastern Syria. More than 40 people have already died since the attacks began in the autonomous region of North and East Syria, including at least eleven civilians. Several people were injured. In Kobane, the newly built Covid hospital, which was laboriously built with donations from Germany, and a rural health center were completely destroyed.
We, who support the development of the health system, projects of the women's movement and civil society in North and East Syria politically, financially and in terms of personnel, condemn the Turkish government's illegal attack on North and East Syria and the autonomous region of Kurdistan-Iraq. We condemn the silence of NATO and the Federal Government of Germany. Germany's Federal Minister of the Interior, Nancy Faeser, urged that the military strikes against the Kurds be moderate, which means nothing other than her agreement in principle to a war of aggression and a breach of international law. We therefore call on the German Federal Government to intervene immediately with Turkey, the UN and NATO in order to end the aggressive war and to grant access for humanitarian aid in North and East Syria. Just as the German government condemns Russia's breach of international law in Ukraine, it must condemn Turkey's war of aggression against the Kurdish people in Syria and northern Iraq."