"Freedom for Öcalan" actions continue in Europe
Actions for the freedom of Abdullah Öcalan have taken place in Stockholm, Gießen, Zurich and Marseille.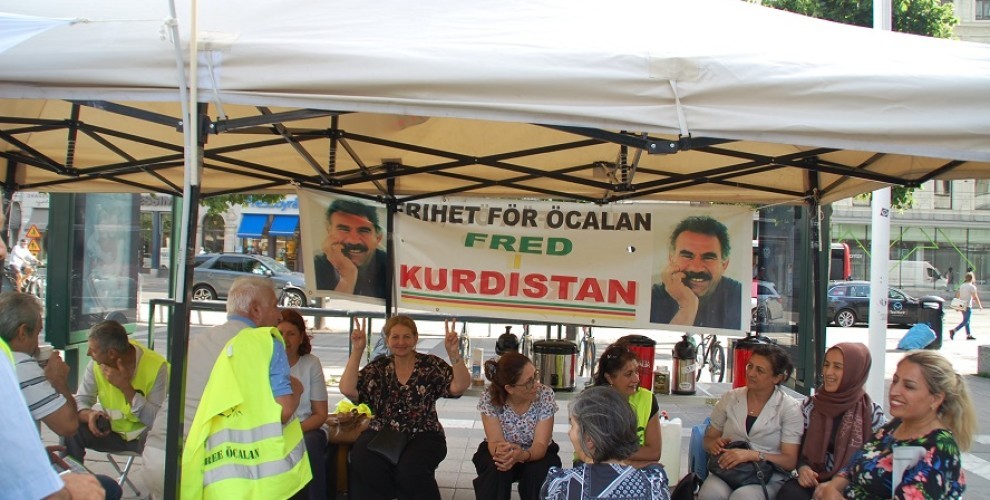 Since September 11, 2016, there is no sign of life from Abdullah Öcalan, the PKK founder and leader of the Kurdish liberation movement imprisoned on the Turkish prison island of Imrali. As part of a Europe-wide campaign under the slogan "Freedom for Öcalan", actions have taken place in several cities.
In Stockholm, a tent has been built in the city center, decorated with large photos of Abdullah Öcalan and banners demanding his freedom. In personal conversations and with leaflets, activists inform about Öcalan's isolation and his significance for the democratization of Turkey and the Middle East.
The action for the freedom Abdullah Öcalans was supported, among others, by the MP Amineh Kakabaveh of the Swedish Left Party. Kakabaveh told ANF that she on behalf of her party had submitted a written question to the Swedish government regarding Öcalan's situation and former HDP leader Selahattin Demirtaş, also imprisoned in Turkey. She said Sweden, however, is acting cowardly for fear of Erdoğan's release of refugees.
Kakabaveh said; "While Erdoğan is a tyrant President that occupies Afrin and Kurdistan, imprisonment of freedom advocates like Öcalan, Selahattin Demirtaş and other HDP members is unacceptable. If Öcalan and other Kurdish leaders are not released, there can be no peace in Turkey and the Middle East."
Similar actions as in the Swedish capital took place yesterday in Gießen, Zurich and Marseille. The information tent in Gießen stands until this evening, in Zurich, the action continues until 11 August.