French Communist Party in solidarity with hunger strikes
The French Communist Party called for mobilization and solidarity to say stop Erdogan.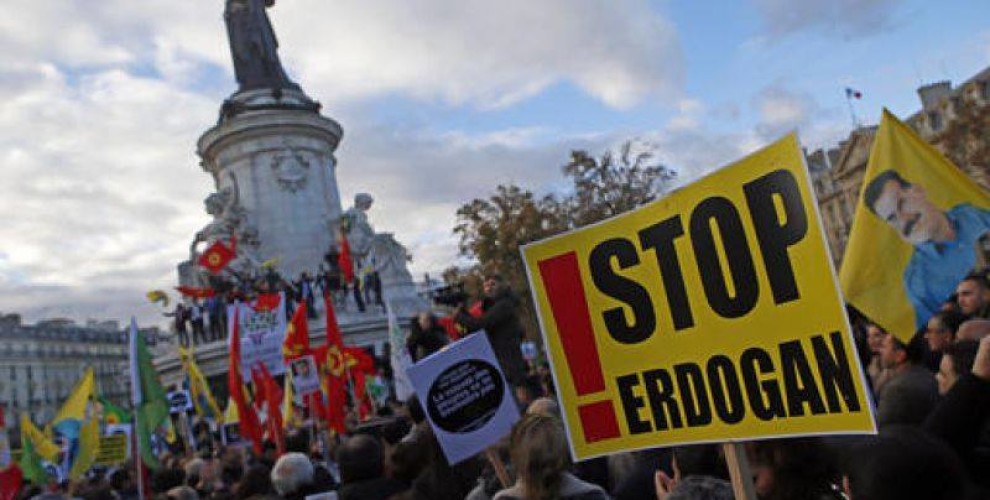 French Communist Party released a statement of solidarity with the hunger strike of the Kurdish women's movement after the movements of Kurdish women in France and Europe began a hunger strike to denounce the dictatorship of Recep Tayyip Erdogan, which tramples on human rights.
In its statement, the French Communist Party (Pcf) said it provides full support to the Democrats of Turkey, the Kurdish people, Congresswoman Leyla Guven and the movement of Kurdish women in the struggle for peace, democracy and the recognition of political and cultural rights of Kurds from Turkey.
The statement said the following;
"The Populist Authoritarianism in Ankara, through its neo-Liberal policy, plunges the country into an unprecedented economic crisis and polarized the fractures of this society. It is fueling the deadly war against the Kurds, persecuting the Alawis, while a paternalistic, intrusive and paternalistic Sunni conservatism is attacking freedoms and especially women.
This exceptional regime multiplies purges, allows arbitrariness against Democrats, as the state apparatus increases.
Since 2015, Erdogan has triggered an open war against the Kurds: arrest of dozens of elected and 5000 activists of HDP, destruction of cities...
While the European Court of Human Rights has, by a judgment, demanded the release of the former co-President of HDP, Selahattin Demirtas, Recep Tayyip Erdogan rejected this perspective in violation of the European Convention on Human Rights And The Universal Charter of Human Rights.
Abdullah Ocalan, leader of the PKK, has been imprisoned for years on the island of Imrali, in defiance of all international and European conventions. He is undergoing inhuman treatment that does not stop his determination to open the path of peace in Turkey. His release and the withdrawal of the PKK, whose fighters have fought with courage against DAESH in Iraq and saved life of thousands of Yazidi Kurds, from the list of organisations banned by the EU would be real steps towards peace in Turkey and in the region.
Turkey is also driving an expansionist and criminal policy in Syria, particularly since the annexation of the canton of Afrin. It constitutes heavy "Jihadistan" for the region, while multiplying provocations to break the democratic and emancipatory experience of Rojava.
The French Communist Party calls for mobilization and solidarity to say stop Erdogan!
France and the European Union must end their guilty complicity with Erdogan.
They must act for the release of all political prisoners and unequivocally condemn this dictatorial regime."