French MPs issue call for Rojava and hunger strikes
Dozens of MP and senator women from various political parties in France called on the country to take urgent initiative with the UN Security Council and to support Rojava, targeted by Turkey, as well as Kurdish women on hunger strikes against isolation.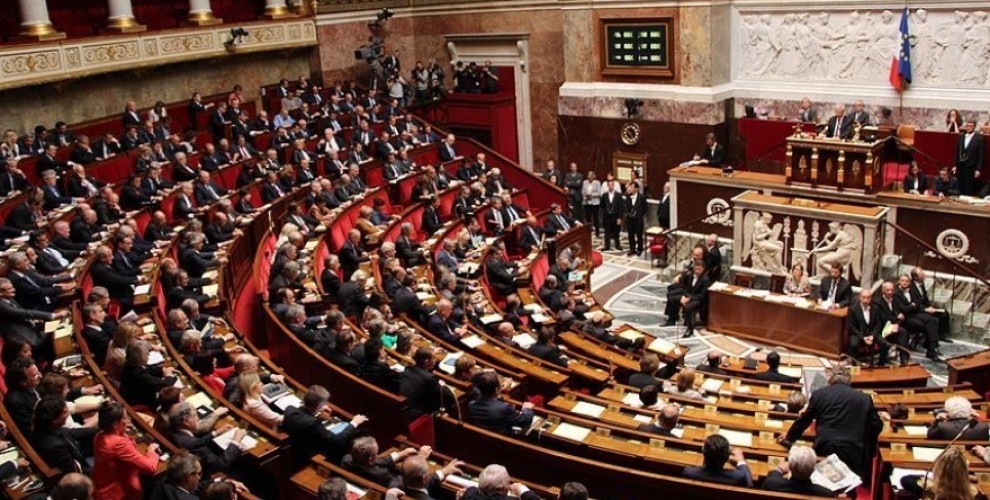 Elected officials from the right, left and ecologist parties in France wrote a letter pointing to the fight Kurdish women wage in Rojava for humanity, and the hunger strike resistance by women led by Leyla Guven to protest the isolation against Ocalan.
"THE WEST ALLOWED THE INVASION DESPITE RESOLUTE STRUGGLE"
The letter said, "It is intolerable that Western countries turn away from what the Kurds are subjected to in Syria," and stated that despite the resolute struggle Kurdish women waged against ISIS, the international community has allowed Erdogan's invasion of Afrin.
The letter said despite the horrifying conditions of the war in Rojava, Kurdish and Arab women and women of other peoples live together and have built a democratic and ecologist system based on women's rights, and added: "Women are fighting to build a peace based on permanent dialogue among peoples." The letter said Raqqa has been governed by a female co-mayor after its liberation from ISIS and stressed: "Their struggle that is exemplary for women's liberation shakes the understanding of a state that serves nationalism and fundamentalism to the core."
"TURKISH ATTACKS TARGET WOMEN'S REVOLUTION AS WELL"
The letter also pointed out that Turkey's attacks targeting Kurds in Rojava and Northern Syria also target the revolution by women who don't want to bow down to patriarchy and added that women standing against state violence and daring to demand equality for all is one of the reasons Turkey has targeted them.
The letter continued to say, "The Turkish President can't tolerate such freedom and is afraid these ideas will 'contaminate' the Middle East."
French politicians said the Turkish state has deployed all their resources to destroy thousands of female and male prisoners and stressed that prisoners are subjected to all manner of mistreatment, insults and isolation.
"ON A HUNGER STRIKE FOR DEMOCRACY AND JUSTICE"
The letter said hundreds of prisoners are on hunger strikes to break the aggravated isolation imposed upon Kurdish People's Leader Abdullah Ocalan and continued: "Leyla Guven was released on parole, and she continues her hunger strike she started for democracy, human rights and equal justice, to break the walls of silence. Over 259 political prisoner women and men are on hunger strikes to end the arbitrary isolation imposed upon them and their leader Abdullah Ocalan."
CALL FOR SUPPORT FOR KURDISH WOMEN AGAINST TURKEY'S ATTACKS AND ISIS
The letter called for support for Kurdish women and said; "Kurdish women and their project for a pro-freedom society they fight for against Turkey's and ISIS' attacks must be supported."
The letter called on Turkish President Erdogan to release all political prisoners, men and women, and on France to take action for the Kurdish people.
The open letter concluded with the following:
"We are calling on France to take initiative at the United Nations Security Council so a politial solution aiming to build peace in the region can be reached, Kurds in Syria are protected by the international community to this end and that they can exercise their right to self determination."
The signatories of the open letters, MPs and senators and their parties, are as follows:
SENATORS
Laurence Cohen, Communist Party of France (PCF)- Val-de-Marne
Cathy Apourceau-Poly, PCF-Pas-de-Calais
Eliane Assassi, PCF- Seine-Saint-Denis
Esther Benbassa, Europe Ecology - the Greens(EELV)-Paris
Annick Billon, Central Union, liberals (UC)-Vendée
Maryvonne Blondin, Socialist Party (PS)-Finistère
Céline Boulay-Espéronnier, Republicans (LR)-Paris
Marie-Thérèse Bruguière, LR-Hérault
Céline Brulin, PCF-Seine-Maritime
Cécile Cukierman, PCF-Loire
Laure Darcos, LR-Essonne
Nathalie Delattre, Radical Left and Socialists (RDSE)-Gironde
Sonia De la Provôté, UC Group-Calvados
Catherine Deroche, LR -Maine et Loire
Elisabeth Doineau, UC-Mayenne
Nicole Duranton, LR-Eure
Frédérique Espagnac, PS-Pyrénées-Atlantiques
Corinne Féret, PS-Calvados
Martine Filleul, PS-Nord
Michelle Gréaume, PCF-Nord
Jocelyne Guidez, UC-Essonne
Corinne Imbert, LR-Seine-Maritime
Victoire Jasmin, PS-Guadeloupe
Mireille Jouve, RDSE-Bouches-du-Rhône
Françoise Laborde, RDSE-Haute-Garonne
Marie-Noelle Lienemann, Republican Left and Socialist Group-Paris
Monique Lubin, PS-Landes
Michelle Meunier, PS-Loire-Atlantique
Marie-Pierre Monier, PS-Drôme
Christine Prunaud, PCF-Côtes d'Armor
Sylvie Robert, PS-Ille-et-Vilaine
Laurence Rossignol, PS-Oise
Sophie Taillé Polian, PS-Val-de-Marne
Sabine Van Heghe, PS-Pas-de-Calais
Michèle Vullien, UC- Rhône
NATIONAL PARLIAMENT MPS
Caroline Fiat, La France Insoumise (FI)-Meurthe et Moselle
Clémentine Autain, FI-Seine-Saint-Denis
Elsa Faucillon, PCF-Hauts-de-Seine
Marie-George Buffet, PCF-Seine-Saint-Denis
Mathilde Panot, FI-Val-de-Marne
Sabine Rubin, FI-Seine-Saint-Denis