#FridaysForPeace – Worldwide protests against the war on Rojava
Climate activists protested worldwide to stop the war against Rojava.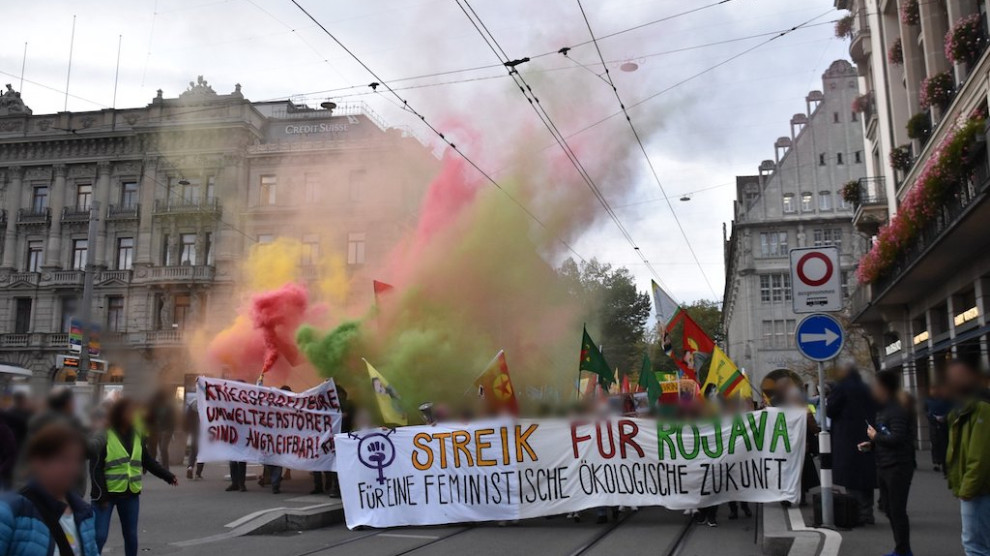 On Friday, in more than 20 cities climate activists from FridaysForFuture and climate strike took to the streets to protest against the Turkish war in Rojava. Streets were blocked in Frankfurt, cars from Mercedes were symbolically turned into military vehicles in Darmstadt, the entrance of Mercedes was blocked in Stuttgart and at many local FridaysForFuture demonstrations like in Bielefeld, Köln, Kiel and Göttingen speeches were held regarding the current situation in Rojava. Flags and slogans and banners showed the solidarity with the resistances in Rojava.
In the face of the Turkish attacks against Rojava / the Democratic Federation of North- and East Syria, hundreds of local FridaysForFuture groups from Germany, Italy, Switzerland, the USA, and Greece have called upon the general public to turn this Friday to FridaysForPeace. Since this war against Rojava is fought also with weapons and military equipment from car producers, the activist went in front of companies like MercedesBenz and VW.
In Berlin, activists blocked the entrance of a VW showroom, protesting against the plans of VW to open new factories in Turkey, and to stop the support of the fascist regime in this and in any other way.
In the city of Darmstadt in Germany, activist went in front of a local Mercedes branch, blocking the entrance and turning the Mercedes cars symbolically into military vehicles to show that Mercedes cars are used in the war in Rojava.
In Stuttgart, the protest went to the factory and offices of Mercedes, and in Frankfurt students blocked the street with a Mercedes-star installation.
Also, in Bari and in Florence in Italy, FridaysForFuture joined the protest. For a moment an entrance to the underground train station was blocked and in front of schools, activists s informed about Rojava and the war.
In Zurich, Switzerland, the climate strike group and women's strike called together for a mass demonstration, to unite for the defense of Rojava.
For years Mercedes Benz is selling military vehicles to the Turkish army and its vehicles are also used in the war against Rojava. Mercedes-Benz Axor special tankers supply the Turkish Air Force with fuel before each bombing. The company MAN supplies vehicles for multiple rocket launchers to the Turkish army, and Turkish tanks are using the engines of MAN.
For the climate and environmental activists, it is clear that the international car industry is part of the Turkish war against Rojava. This companies don't just kill the climate, but also people in Rojava. That's why the protest will continue, until the war stops.
For Saturday, the climate-justice movement, with FridaysForFuture groups and endegelände are calling to participate in central demonstrations in the different cities and countries.