German deputy Dolzer on solidarity hunger strike
A German deputy, Martin Dolzer, has joined the hunger strike led by HDP Hakkari MP Leyla Güven demanding the end of isolation against Kurdish People's Leader Abdullah Öcalan.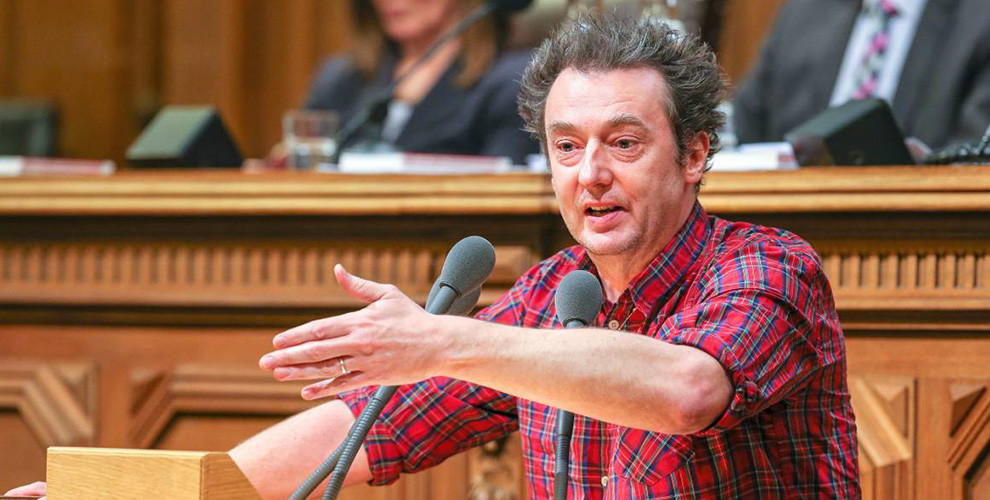 Die Linke deputy in Hamburg, Martin Dolzer, has announced that he went on hunger strike on Sunday night in solidarity with the demand of the hunger strike resistance.
"The Turkish state has violated international law with this practice, the isolation on Öcalan must end immediately", said Dolzer.
'Öcalan will play an important role for peace'
The hunger strike demanding the end of isolation has reached day 138 for HDP Hakkari deputy and DTK co-chair Leyla Güven. Prisoners have reached the third month of fast and their health is quickly deteriorating.
"The ongoing hunger strike - said Dolzer - is not to die, but to bring democracy and peace. The hunger strike is a scream against this long-lasting injustice. This scream needs to be heard by the world public opinion. Like Nelson Mandela in South Africa, Abdullah Öcalan could play a crucial role in the democratization of Turkey and peace in the Middle East", said Dolzer.  
The Germany Deputy underlined that the Western States, and especially the Federal German Government, did not want to listen to voice of the hunger strikers and added: "If the demands of Leyla Güven and the other prisoners and activists on hunger strike are accepted, they will survive. That's why I call on the Federal German Government and the EU to play a positive role as interlocutors and I urge them to put pressure on the Erdoğan government."
Meetings to raise awareness about the hunger strike resistance
Martin Dolzer, who finished his statement with the words "Berxwedan Jiyane" [Resistance is Life], added that he would continue his solidarity hunger strike until the parliament session in Hamburg, on Wednesday.
The German deputy told ANF that he would meet with the representatives of churches and civil society organizations today and tomorrow to explain the hunger strike action and the isolation imposed on Öcalan.
Dolzer, who visited the activists on a hunger strike in Strasbourg last January, said that anyone who favours democracy, peace and equality should stand up and take action.
The Hamburg Deputy is a sociologist and is expected to end his hunger strike with a press conference by his Die Linke Party group at the Hamburg State Parliament on Wednesday at 11 am.