German Left Party fully supports anti-Erdogan protests
Die Linke administration has announced that the party will offer full support for the protests to be organized by the 'Erdogan Not Welcome' platform in Berlin and Cologne on September 28-29 during Erdogan's visit to Germany.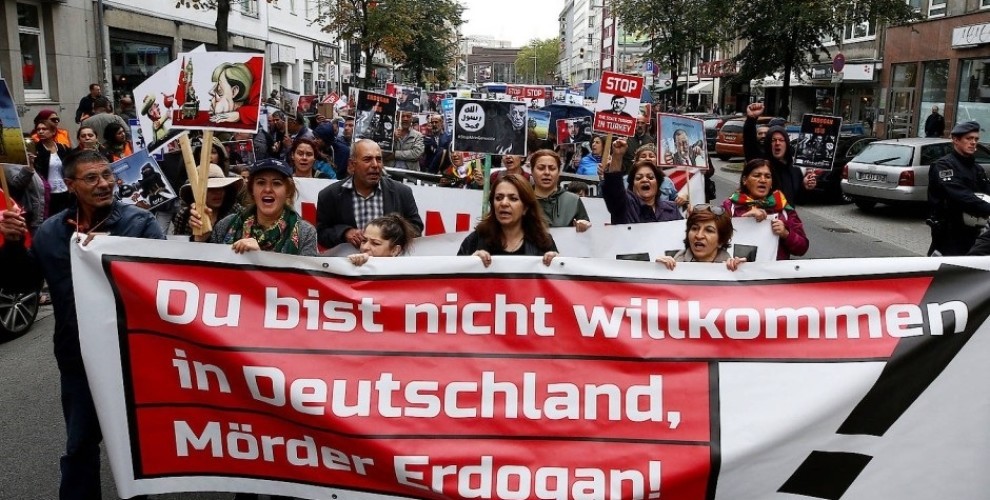 On the German state's invitation, next week Turkish President Recep Tayyip Erdogan will be holding his first official visit in years to Germany. Despite objections by the Germany opposition and public, Erdogan will be greeted on the red carpet on September 28, Friday and will travel to Cologne next day to meet with his supporters.
The Erdogan Not Welcome platform formed by various institutions so Erdogan will be greeted with large scale protests fitting a dictator is organizing two central protests in Berlin and Cologne, on top of the protests already staged this past weekend.
DIE LINKE SUPPORTS THE PLATFORM
Opposition party Die Linke's (Left Party) administration has decided to offer full support for the protests against Erdogan to be held by the platform in Berlin and Cologne. All Die Linke branches have been notified of the decision and members and voters are expected to participate in both central protests.
Die Linke issued a statement about the decision and said they support the Erdogan Not Welcome platform. Die Linke opposes Erdogan being received by the German state at the top level. The party pointed out that thousands of HDP members and over 200 journalists are in prison in Turkey.
Die Linke said all democratic rights are being ignored and police attacks peaceful protests in Turkey: "Despite the Erdogan regime turning their politics more and more violent, Foreign Minister Heiko Maaß can still say Turkey is 'our most important partner'. The German state acts as a branch of the Erdogan regime with this approach. We say no."
Die Linke pointed out that it is time the Merkel-led federal government take responsibility about democracy and human rights, and demanded a clear stance against the Erdogan regime.
A mass protest called by the Erdogan Not Welcome platform will start in the Potsdamer Platz square on September 28 at 16:00 during a dinner hosted by German President Frank Walter Steinmeier for Erdogan. Another mass protest will be held in Cologne's Deutzer Werft square the next day at 11:00 when Erdogan will be officially opening a mosque built by DITIB.
ERDOGAN UNITES GERMAN OPPOSITION
Meanwhile, the number of MPs boycotting President Steinmeier's dinner in the Bellevue Palace rises rapidly. MPs from the Greens and the far-right AfD have announced that they support the boycott launched by Free Democrats Union (FDP) MP Bijan Dijr-Sarai and Die Linke MP Sevim Dagdelen.
The decision to boycott Erdogan has united the very distant German opposition. FDP leader Christian Lindner, Greens co-chairs Annena Baerbock and Robert Habeck and AfD parliamentary group chairs Alexander Gauland and Alice Weidel have issued back to back statements announcing that they won't be in the same room as Erdogan.
FDP leader Lindner said he doesn't want to be part of Erdogan's propaganda, while Die Linke MP Sevim Dagdelen spoke to German mainstream media and said she will be attending the protest against Erdogan instead of the dinner in the presidential palace.