German MP Hunko: Leyla Guven's demands are our demands
German MP Andrej Hunko visited the hunger strike held in Berlin to protest the aggravated isolation imposed upon Öcalan and said, "Leyla Guven's demands are our demands as well."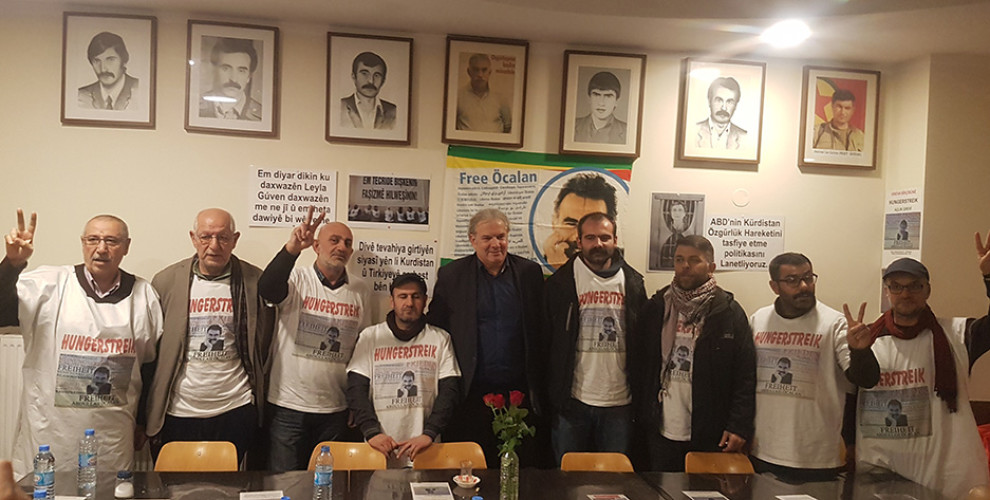 German Federal Parliament deputy Andrej Hunko visited the hunger strike held in solidarity with DTK Co-chair and HDP MP Leyla Guven who has been on a hunger strike for 34 days to protest the isolation imposed upon Öcalan.
Hunko visited the hunger strike held in NAV-DEM Berlin and said, "The demands of the activists are our demands as well. We embrace your purpose and your action, we will continue to support you until the end."
Hunko added that they have been engaged in efforts in the German Parliament so the isolation imposed upon Kurdish People's Leader Abdullah Öcalan is lifted and the negotiation process starts again: "We wish all people in the resistance including Leyla Guven achieve their goals before they come into serious health issues. Anything else would give us sorrow. We will do all we can to this end."
"POLITICAL PRISONERS SHOULD BE RELEASED"
Hunko also said Kurdish People's Leader Abdullah Öcalan and all political prisoners should be released and added: "We demand Turkey comply with the ECHR ruling about Demirtas. Turkey is trying to hold out and sabotage the issue, but end up having to comply. This keeps happening constantly. They will have to comply with the final ruling of the court, that is the procedure."
"PKK BAN SHOULD BE LIFTED"
Hunko said the PKK ban and the extended ban against flags and symbols is also coercive: "Some symbols that are free to use in some states in Germany can lead to bans and even police brutality in others. This is a serious contradiction. Our fight against this also continues. We are in favor of a total abolishment of the PKK ban. We will continue our efforts to this end.
Like the rulings by Belgian courts, we also need to reach verdicts that PKK is not a terrorist organization. Due to our efforts, this narrative isn't voiced in the Council of Europe like it was in the past.
Hunko said despite all the pressure, hundreds of thousands of people have gathered around Öcalan and Guven around the world: "This will continue, and gives us hope in terms of the general struggle for freedom as well."