HDP Amed MP Tosun protests war and attacks by throwing her white scarf to the ground
HDP Amed MP, Remziye Tosun, threw her white scarf to the board at the General Assembly, saying "Let the isolation be lifted and the war end."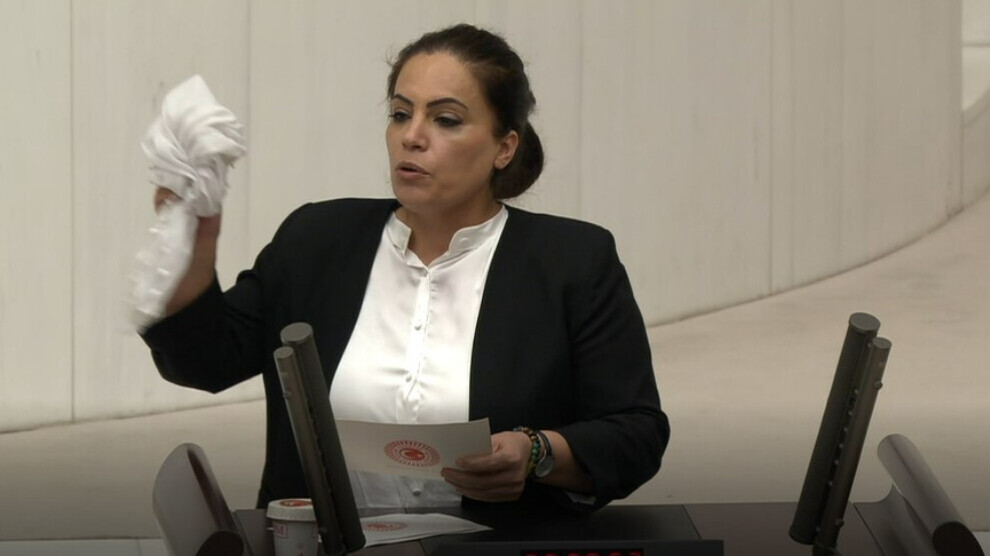 Peoples' Democratic Party (HDP) Amed MP Remziye Tosun wore a white scarf to protest the isolation system against Kurdish people's leader Abdullah Öcalan and the attacks by the Turkish state against Northern and Eastern Syria and Basûrê Kurdistan at the General Assembly of the Parliament, where budget negotiations are continuing. She threw the scarf at the board.
Where war decisions are taken
Tosun protested the Imrali isolation system and the war and said: "Insisting on the deadlock in the Kurdish problem is dragging society into disaster. At the stage we have reached, every repression method has been applied. The repression which led to a deadlock has been met with resistance. The resistance of the Saturday Mothers against the darkness of the 90s was a leading action. Peace Mothers and women's struggle to resist war. Peace and justice vigils continue in many parts of the country. We need peace now more than ever. It is women who suffer the most from conflicts. We need to carry the power of women who threw their white scarf on the ground in the past to our days. In order for the conflicts to end, for the isolation system to be lifted, for honorable peace to come to this land, I am throwing my scarf here where war decisions are taken. Stop the operations, lift the isolation in Imrali, open the way to honorable peace."