HDP announced candidates for 41 cities and towns
Local elections will take place in Turkey on March 31.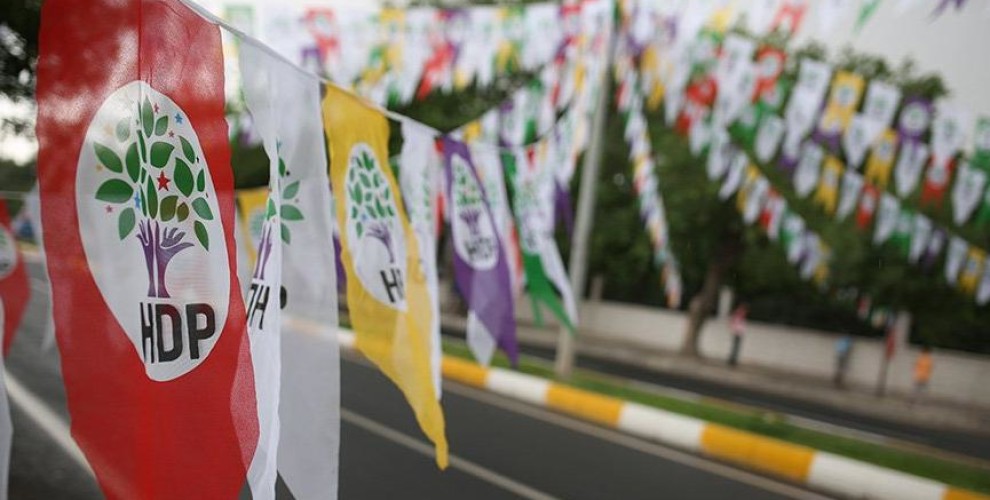 Peoples' Democratic Party (HDP) spokesperson, Saruhan Oluç, has announced the party's co-mayor candidates for 41 cities and towns. Mardin Metropolitan Municipality and Van Metropolitan Municipality candidates were also announced.
Local elections will take place in Turkey on March 31.
On 11 September 2016, Turkey's Interior Ministry appointed trustees to 28 local municipalities across the Kurdish region.
The municipalities had mostly been won by the DBP (Democratic Regions Party, a sister party of the HDP) in the previous elections. Mayors and councillors had been freely and democratically elected. 
Yet, the AKP government decided to hit the will of the people, and their right to choose their own mayors and councillors. The legally elected representatives were removed on the grounds that they allegedly provided support to the PKK and Fethullah Terrorist Organization (FETÖ) - which was accused of staging the failed coup attempt of 15 July 2015.
Mayors elected for a total of 28 municipalities were suspended from their duties as part of a decree law issued under the state of emergency.
24 of the 28 co-mayors removed were accused of having links with the PKK and were arrested.
Mayors of Silvan and Sur municipalities of Diyarbakır, four municipalities in Mardin, Van and Batman, and two municipalities in Şırnak were either replaced by deputy governors or district governors.
The HDP at the time, issued a statement following the decision, describing it as unacceptable.
"Such an unlawful regulation which disregarded the voters' will and deactivated elected local administrators and councils is null and void for us," the party said, adding that the assignments violated international conventions and laws.
HDP also stressed that there was no difference between the mentality of the July 15 coup attempt and the recent assignments.
Here is the full list of candidates of the HDP for the local elections of March 31.
VAN
Van Metropolitan Municipality: Bedia Özgökçe Ertan - Mustafa Avcı
İpekyolu: Azim Yacan- Şehzade Kurt
Edremit: Gülcan Kaçmaz Sağyiğit - Seyfettin İtha
Özalp: Dilan Öğrenci - Yakup Almaç
Çaldıran: Leyla Adsak - Faruk Demir
Başkale: Şengül Polat - Erkan Acar
Gürpınar: Rojbin Akdağ - Kemal Güler
Gevaş: Melek Arapoğlu- Veysi Şeker
*
MARDİN
Mardin Metropolitan Municipality: Ahmet Türk - Figen Altındağ
Nusaybin: Semire Nergiz -Ferhat Kut
Kızıltepe: Nülifer Elik Yılmaz- Salih Kuday
Derik: Mülkiye Esmez -Mehmet Şerif Kıran
*
KARS
Kars Centre: Ayhan Bilgen – Hatice Orhankazi
*
MUŞ:
Muş Centre: Sibel Genç – Sırrı Sakık
Bulanık: Eylem Suruca - Adnan Topçu
Malazgirt: Gülay Çelik - Erdal Çakar
Varto: Ülkü Baytaş - Gıyasettin Aydemir
*
BATMAN
Batman Centre: Songül Korkmaz - Sabri Özdemir
*
BİTLİS:
Bitlis Centre: Zekiye İlbasan - Faruk İşler
Tatvan: Serap Çakmak - Habip Yeşiltepe
*
HAKKARİ
Yüksekova: Remziye Yaşar - İrfan Sarı
Çukurça: Hevidar Ertunç- Ebubekir Kanat
Şemdinli: Felem Aker – Sami Beşer
Büyükçiftlik: Gülcan Ceylan - Emin Bulgan
*
AĞRI
Doğubayazıt: Yıldız Acar - Cesim Çakçı
Diyadin: Hazal Aras - İhsan Yenigün
*
MALATYA
Arvguvan: Seda Gültüten- İlhan Yıldız,
*
ŞIRNAK
Cizre: Mehmet Ziriğ - Berivan Kutlu
Silopi: Adalet Fidan - Sülayman Şavluk
İdil: Songül Erdem - Niyazi Çevrim
Fındık town: Ahmet İmre - Sevim İmre
Uludere: Selahattin Ürün - Feride Yaman
*
DİYARBAKIR
Sur: Filiz Buluttekin -Cemal Özdemir
Bağlar: Zübeyda Zümrüt - Zeyat Ceylan
Yenişehir: Belgin Diken -İbrahim Çiçek
Lice: Salime Zingil - Tarık Mercan
Silvan: Naşide Toprak- Abbas Hilmi Azizoğlu
Bismil: Gülşen Özer - Orhan Ayaz
Eğil: Gülistan Ensarioğlu - Mustafa Akkul
*
BİNGÖL
Karlıova: Evin Özen -Özkan Bingöl
*
ERZİNCAN
Çağlayan: Özlem Demir - Veli Pınar Çağlayan