HDP Co-Chair Buldan in Urfa: We will overthrow those responsible for deaths from disasters
During a visit to the flood-hit Urfa province, HDP Co-Chair Pervin Buldan said: "The May 14 elections will provide an opportunity to overthrow those responsible for deaths from disasters. We will call them to account."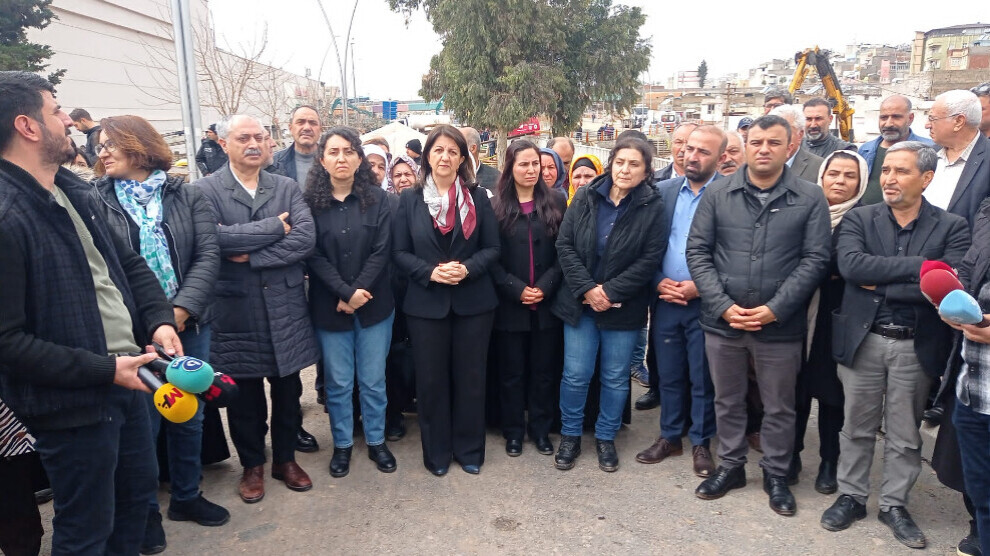 The Peoples' Democratic Party (HDP) Co-Chair Buldan made a statement in Urfa where the recent floods led to deaths.
"It has been 40 days since the earthquakes, but the survivors are still in need of food, aid, shelter and various other materials. We have been standing by the survivors since the first day. We will continue to do so in the future," said Buldan, who further stated the following:
"The government introduced a big campaign and collected 115 billion TL. It is our responsibility to ask what happened to that money. The earthquake survivors have received no money at all so far.
It is a shame that the disaster and emergency management presidency (AFAD) and the Turkish Red Crescent sold the tents in the aftermath of the earthquake. Of course, we know how to make them give an account at the elections. All the peoples of Turkey, especially earthquake victims, have the right to call the government to account.
I would like to emphasize once again that a minister who seeks consolation in the deaths of people must resign immediately. If we are faced with a flood disaster due to rain in this city, where the infrastructure problem is very intense, those who rule this country must also give an account.
Such deaths would not have occurred if these cities had a solid infrastructure. However, we have seen once again massive devastation in both Urfa and Adıyaman due to infrastructure problems arising from maladministration, corruption and irregularities in these cities.
There is a massive disaster in the city, but there is neither an official nor an administrator here. Once again, people have been left to their fate. There is an opportunity to get rid of this government that relies on plunder, theft and corruption. This opportunity is the elections to be held on May 14. Of course, the people of Urfa will call the government to account for the destruction they have experienced in the upcoming elections. We will continue to support the earthquake survivors."