HDP deputies promoted action for Leyla Güven in Istanbul
Before the march activists have met at Taksim Hill Hotel and when they were to start the march with their banners and flags, police cordoned off the hotel.
HDP co-chairs, Pervin Buldan and Sezai Temelli, joined the march from Taksim Square to Galatasaray to support DTK co-chair and HDP Hakkari MP Leyla Güven who has been on hunger strike for 96 days demanding the end of isolation against Kurdish People's Leader Abdullah Öcalan.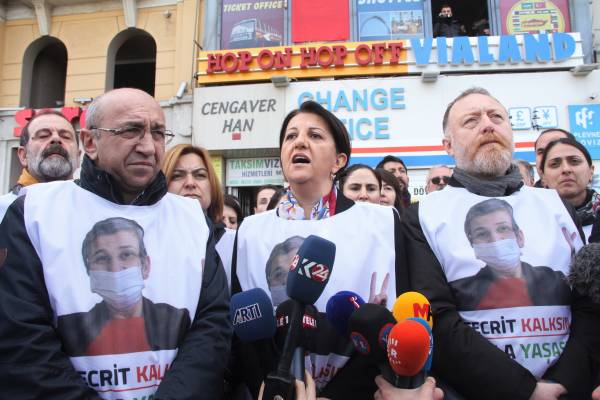 Police obstructed the march.
Before the march activists have met at Taksim Hill Hotel and when they were to start the march with their banners and flags, police cordoned off the hotel.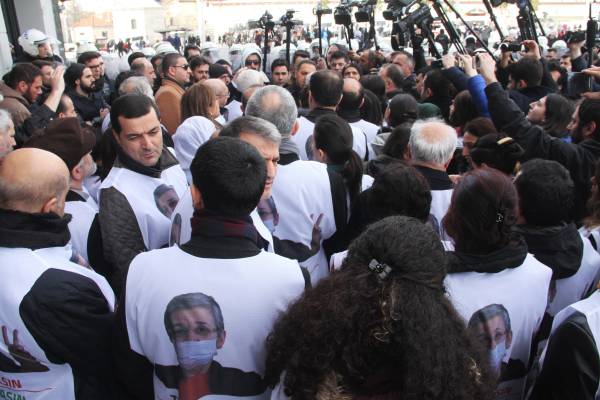 The police chief, who met with HDP, said they would not allow the march to continue. He said: "We haven't allowed anyone to march since August 2018. If we let you do it, it will be a shame for me."
HDP parliamentary group chair and Mardin MP, Mithat Sancar, said that they want to march as allowed by the constitution.
Yet the police chief said he would not allow the march.
In the end deputies came out in little group and managed to walk to Istiklal Avenue carrying photos of Leyla Güven and chanting slogans against isolation.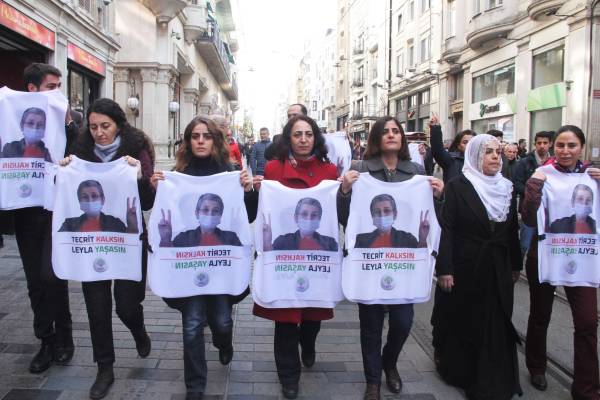 "Isolation should end"
HDP co-chair Sezai Temelli said: "We want isolation to end as soon as possible. We are here to share the struggle led by Leyla Güven. This struggle is for all Turkey, to get peace, equality, freedom and this is a legitimate demand. Every prisoner has the right to meet with families and lawyers. The fact that this right is denied to Mr. Öcalan is a great illegality."
Temelli remarked that the police obstruction of the HDP march in Taksim was the "best picture of what isolation means. This prohibition is the proof of the state of lawlessness we are living in. That's what isolation is. Leyla Güven has tried to show this for 96 days."
Against this, said Temelli "we should declare that we are a party of democracy, peace and judicial independence. We speak to all democratic forces, women and young people. Defend the independence of the judiciary, democracy and the state of law. If isolation is ended, we can only begin to get back our freedom. We will continue to give voice to Leyla Güven to counter all these lawlessness and crimes."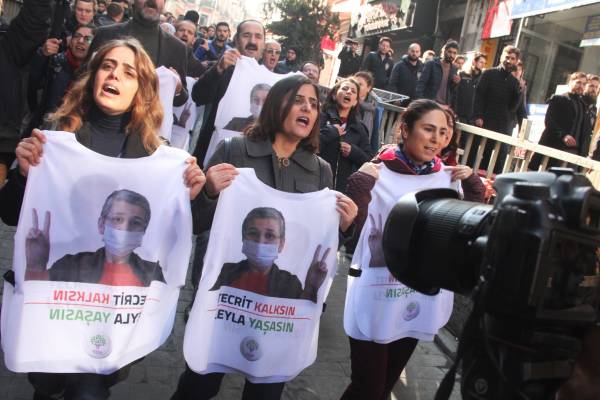 Buldan: We won't let our friends die
HDP co-chair Pervin Buldan said: "We meant to raise awareness for the removal of isolation in order to ensure that Leyla and her friends in prison live.
The Minister of Interior prevented the deputies from marching. Being a human means preventing death. Those who rule this country should know that we will always try to express our legitimate demands. We have been fighting this struggle for 40 years. We did not learn the struggle for freedom and democracy from the Minister of Interior. We never compromised our principles. We paid every price so that this country could live in freedom and justice."
Buldan underlined that "Leyla Güven put her body at stake to end the unjust and unlawful isolation against Mr. Öcalan in İmralı prison. We may be faced with terrible consequences of this action any time now. We will not allow our friends in prisons to lose their lives. We reject the prohibition to march we were issued with: 61 deputies have not been allowed to march. We once again gathered to highlight the demand for peace and freedom."
Leyla Güven spoke to Pervin Buldan
After the speeches, HDP people staged a sit-in at Taksim Qquare. During the action, Leyla Güven spoke on the phone with Pervin Buldan and was told about the action.