HDP deputies' vigil against the isolation of Öcalan leaves one month behind
Peoples' Democratic Party (HDP) deputies continue their vigil in front of the Turkish Parliament demanding an immediate end to the aggravated isolation regime imposed on Kurdish leader Abdullah Öcalan.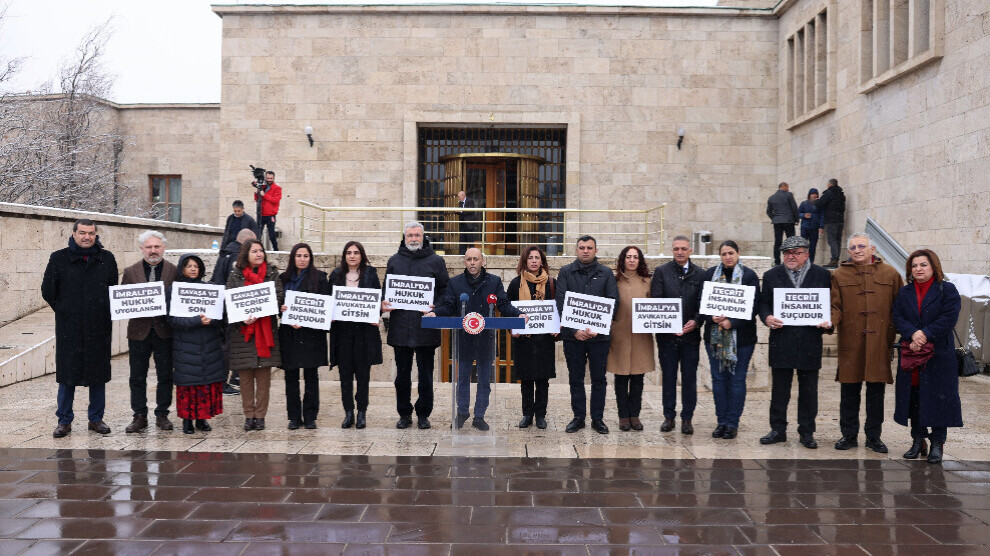 For 30 days, MPs from the HDP parliamentary group have been protesting for the lifting of the total isolation of Kurdish leader Abdullah Öcalan, of whom there has been no sign of life for 22 months. Day after day, the MPs try to march in front of the Ministry of Justice but are prevented from doing so by the police and therefore make statements in front of the parliament. Today's protest was attended by MPs Kemal Peköz, Muazzez Orhan, Şevin Coşkun, Feleknas Uca, Ömer Öcalan, Abdullah Koç, Kemal Bülbül, Erol Katırcıoğlu, Serpil Kemalbay, Sait Dede, Murat Çepni, Ayşe Sürücü and Nuran İmir. The MPs carried signs reading "The law must apply to Imrali" and "Isolation is a crime against humanity".
Speaking during the vigil today, Sait Dede said: "As members of the parliament, we have been calling on the government to abide by the law for a month now. The rulers say at every opportunity that Turkey is a state of law, which, however, is not implemented by the government or the Ministry of Justice. If the laws are not implemented, then how will the rights of citizens be secured? Apart from that, is everyone not equal before the law? Unfortunately, not, since we see laws being implemented arbitrarily. If this is not the case, then why an unprecedented isolation executed on Imrali? According to which law is this isolation implemented?"
Noting that no news has been received from Öcalan and his fellow prisoners on Imrali for 22 months and their right to meet with family members and lawyers is constantly denied, Dede said, "This isolation and unlawfulness underlies all of Turkey's problems, the only solution to which passes through dialogue. This country will never achieve internal peace without dialogue and negotiations. Mr. Öcalan presented a perspective of solution for not only Turkey but for all peoples of the world and expressed at every turn his readiness for peace. His attitude, however, was met by warmongers with isolation."
Dede referred to the 'peace process' in 2013-2015 when, he said, bloodshed stopped, and nobody suffered the slightest harm. "The government, however, preferred to maintain its rule over the peace and welfare of the country. It was a time of the highest level of social, political and economic welfare. However, once the isolation intensified, multiple crises emerged in Turkey. People began to grapple with poverty and conflicts escalated. The country ended up in a deadlock. The sole way to overcome these problems is to break through isolation. If internal peace and democratization are to be achieved in this country, it will be through the removal of isolation," he said.
The HDP MP concluded: "The isolation executed on Imralı has already spread across the country and even exceeded its borders. We will continue our struggle until the isolation is lifted. Justice will not be possible in Turkey without the removal of isolation."