HDP, DTK, HDK and DBP call for an end to the isolation of Öcalan
HDP, DTK, HDK and DBP held a press conference to mark both the 20th anniversary of the 15 February international conspiracy and the 100th day of the hunger strike of Leyla Güven.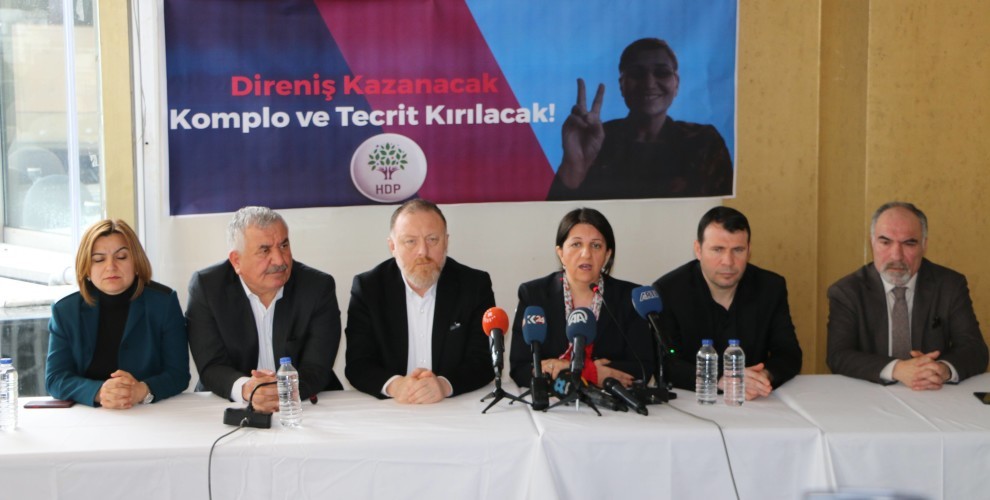 A press conference was held at Taksim Hill Hotel to mark both the 20th anniversary of the 15 February international conspiracy and the 100th day of the hunger strike of Leyla Güven.
The meeting was attended by HDP co-chairs Pervin Buldan and Sezai Temelli, HDK co-spokespersons, DTK presidency members, DBP executives, representatives of different HDP constituents, civil society organisations, HDP Istanbul deputies.
'Mr Öcalan's ideas about the future are very important'
Speaking at the meeting HDP co-chair Buldan said: "On 15 February 1999, 20 years ago today, Mr Öcalan was brought to Turkey as the result of an international conspiracy. Today, 20 years on, we are here to analyse what happened in these 20 years. We are here to analyse what we have witnessed in 20 years and the expectations of the Turkish society for the next period."
Although Mr. Öcalan has been in Imrali prison for 20 years, added Buldan, "he has been producing books, thoughts, analysis, theories in search of the democratization of Turkey and the Middle East. Mr. Öcalan has produced very important analysis and reflections for the peace, freedom and the future of Turkey. We just need to look at these books to see this."
Buldan recalled how "between the years 2011-2015, as a result of the meetings of the political committees with Mr. Öcalan within the knowledge and approval of the State, we have experienced very important developments."
This process, she said, "began with a phase of non-conflict and it would have been possible to continue until the democratization process guaranteed by the Dolmabahçe Protocol, but was cut short on 5 April 2015 since when isolation has been deepened even further."
2011-2015 process gave people hope
Buldan added: "The process between 2011-2015 was important from all points of view, especially for the peoples of Turkey and society, but unfortunately this process was brought to an end. During that process, and in particular in the process of non-conflict, the people of Turkey felt hope for the future, felt confident and mothers were not crying anymore."
Yet, Buldan recalled that "at the very last meeting, Mr Öcalan had warned us, 'if this negotiation process is not carried out in the presence of observers, it will be frozen and you won't be able to come here again'. Indeed this is what we witnessed. Since that meeting we were denied permission to bring in observers and to end the process, as the State deepened isolation against Mr. Öcalan and prevented the delegation from going and meeting him again."
Buldan recalled how since the end of talks, Turkey has gobe through yet another period of darkness which affected not just Kurds but all the peoples of Turkey.
'Öcalan and Kurds defeated the conspiracy'
What happened during these 20 years, said Buldan is in fact that "Mr. Öcalan defeated these 20 years of conspiracy with his thoughts. Kurdish people have succeeded in destroying this process of conspiracy. As we understand from the statements made, Mr. Öcalan's thoughts on peace, democracy and freedom are important for the future of this country."
'Our future won't be bright if we don't counter isolation'
Buldan reiterated that "we do not see the issue of isolation only as an issue affecting Kurds. We said that this issue is a matter of concern for the peoples of Turkey and society. What should be upheld today is the future of our children, together with the removal of isolation. So today, if we cannot create a solidarity network, a united front to counter isolation, we won't have a bright future ahead."
Hunger strikes
HDP co-chair Buldan reminded that "today is the 100th day of our beloved MP friend Leyla Güven's hunger strike. For 100 days Güven and over 300 people in Turkey and Europe have been on hunger strike, putting their body at risk.
These people are not demanding something illegal or unreachable. They are asking Turkey to comply with its own laws."
Buldan recalled that Mr Öcalan was recently allowed to meet his brother for 15 minutes, but this, she said, does not mean the end of isolation.
Leyla Güven and the other hunger strikers, said Buldan, are actually demanding the end of isolation which means for Öcalan to have his rights reinstated.
"Today, - said Buldan - our deputies will hold a press conference in front of Leyla Güven's house. However, our deputies and voters who wanted to come in front of Leyla Güven's house in Diyarbakır from other provinces, have been facing pressures and obstacles for three days as police tried to prevent them from reaching Amed."
Sadak: Had Öcalan been understood…
DTK presidency member Selim Sadak said: "There is still bloodshed. The government still spends its state capital fighting the Kurds. If the rulers of Turkey had understood Mr. Öcalan and brought negotiations to a different end, Turkey today would be another country."
Arslan: Öcalan is the will of millions
DBP co-chair Mehmet Arslan said: "This conspiracy is also a conspiracy of forces trying to prevent the Kurds, Turks, Arabs and other peoples living together in Kurdistan. In fact, this conspiracy is a game that is designed to prevent coexistence. Mr. Öcalan is neither an ordinary prisoner nor an ordinary politician. He is a political actor, who is accepted as the will and leader of millions of Kurds and the peoples of the Middle East."
Şenol: During the negotiations process hopes were high
HDK co-spokesperson Sedat Şenol said: "Today, if Mr. Öcalan is in Imralı for 20 years, he is subjected to torture, he is deprived of his most democratic and legal rights it is because some people fo not like his ideas and project for democracy and international rights. During the negotiations process we all felt better, hopes were high. The architect of this was Mr. Öcalan. The HDK calls on everyone to act."